Welcome to the 2019 Holiday Auction!
The auction begins on Tuesday, October 15th at 8 a.m. and ends on Tuesday, October 22nd at 5 p.m.
Please make sure you READ THE RULES, particularly the part about credit card authorizations. In short, each time you place a bid, the system places a hold authorization for that amount on your card. When you are outbid, the hold is released. If you bid $50 on ten different items, this means $500 of your available balance will be unavailable until you're outbid. Any winning bids at the end of the auction are captured - meaning your card is charged. We recommend you use a credit card, not a debit card for this auction. A released hold may take several days to reflect on your statement.
Winners! Here's where and when to pick up your cards:
Pick up will be arranged by the businesses auctioning off their gift cards. Gift cards are not available for pick up at Sudbury.com. Winners will be advised of pickup times and dates. Please bring identification. Signing a release form to confirm delivery may be required.
---
Sudbury eBikes - Knights GTS Motorcycle Style e-bike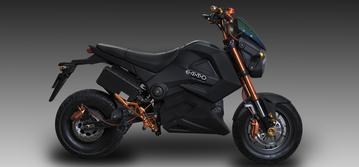 Motorcycle style e-bike! Ebikes are eco-friendly rides NO LICENCE /INSURANCE/ REGISTRATION REQUIRED.
Powerful KNIGHT GTS
72V battery and equipped with a powerful 500W motor.
The most efficient controller on the market will greatly increase the acceleration of e-bike.
Advanced safety features offered 1. Both front and rear brakes are hydraulic disc brakes.
The best stopping power on the market. 2. Windshield for increased driving safety.
Color Black /Copper.
Taxes Included.
Business

Sudbury eBikes

Value

$3,275.88

Starting Bid

$1,637.94
---
Item
| # | Bid | | By | Date |
| --- | --- | --- | --- | --- |
| 1 | $1,637.94 | | - | - |
---
This auction closed on Tuesday, October 22, 2019 5:00:00 PM.
Pickup Instructions
Item available for pick up at Sudbury e-Bikes, located at 4544 Old Hwy 69 Unit #5, Val Therese. Bring your confirmation email to the store to claim your item.
This auction closed on Tuesday, October 22, 2019 5:00:00 PM
---

About Sudbury eBikes
Sudbury E-Bike is established in September 2016. We are the DAYMAK, EMMO and E-BIKE PROS authorized dealer for the City of Greater Sudbury. We offer alternative green transportation or just fun for the family. We warranty, carry parts and provide service on all our products.
These products are affordable, quiet, emission free and cost pennies to operate. With a wide selection of models and colors, there is sure to be a style of E-Bike that will interest you. Reducing your carbon footprint has never been so much fun!
Our goal is to ensure your experience with us is positive by supplying a quality built green vehicle with professional and courteous service and sales.
We Are A Member Of The Canadian Electric Bike Association With A Certified Technician On Hand
4544 Old Hwy 69
Address

4544 Old Hwy 69

Phone

705-969-2453