In each "Behind the Scenes" segment, Village Media's Scott Sexsmith sits down with one of our local journalists to talk about the story behind the story.
These interviews are designed to help you better understand how our community-based reporters gather the information that lands in your local news feed.
Today's spotlight is on SooToday's Alex Flood, whose story 'How a Sault man survived 48 hours stranded in the bush' was published on August 29, 2023.
Here's the original story if you need to catch up:
​
A Sault Ste. Marie man who went missing for 48 hours in the bush east of Searchmont — triggering a public alert from the OPP earlier this month — is speaking out about what he describes as a near-death experience.
He also provided SooToday with video footage he recorded for his family during the two-day ordeal, just in case he didn't make it home.
In the early morning hours of Aug. 8, Don Noel, a 66-year-old type 2 diabetic, went out for a solo ride on his ATV up to Laughing Lake, located several kilometres north of Ranger Lake.
He told his wife Sharon he'd be back home in time for dinner at 6 p.m.
"I just went out for a day ride to blow off some steam and get back into nature," he says. "It's my stress relief."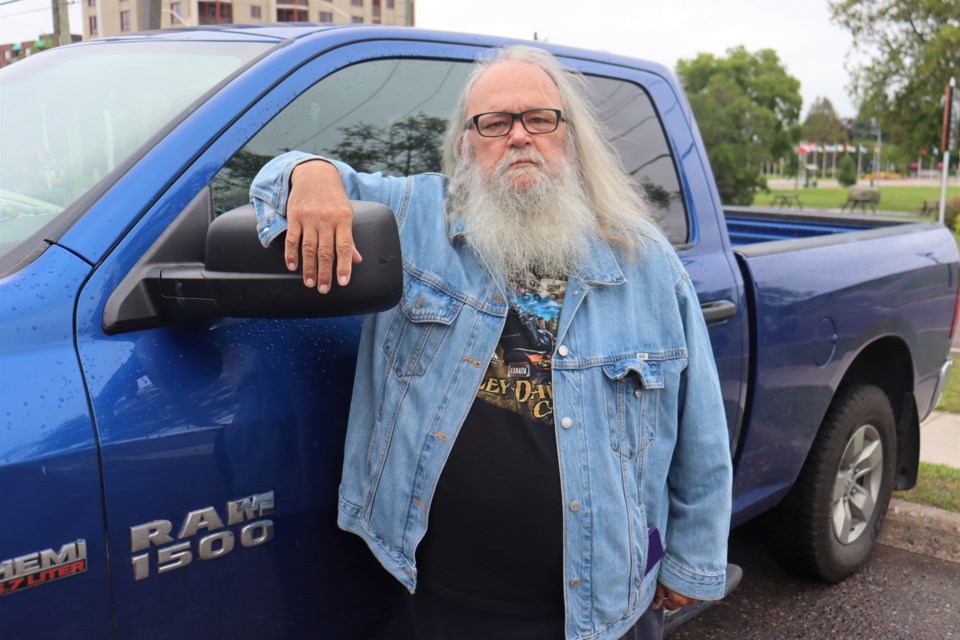 After spending some time up at Laughing Lake, Noel was driving back down the trail towards his pickup truck on Ranger Lake Road when his four-wheeler gave out shortly after 1 p.m.
"It just quit and stopped on me," he says. "I was about 30 kilometres from my truck at that point with no cell service."
For the next five hours, Noel tried to troubleshoot his four-wheeler but couldn't figure out how to get it going again. That's when reality began to set in.
"I had two bottles of water and a full bagel with me," he says. "I'm a severe diabetic, and I had no insulin or any meds with me. I knew I was going to have to walk out of there soon."
But as the sun went down, Noel made the decision to sleep overnight on his ATV.
Waking up early the next morning on August 9, Noel had a couple bites of his bagel and a mouthful of water before walking several kilometres back up north towards a small campsite he had been familiar with in passing.
"I stopped about every hour for a 15-minute break for a little drink of water and would continue on," he says. "It started to pour rain, so I draped my fluorescent orange and silver Harley Davidson raincoat over myself while I went along."
After six hours of walking, he made it to the campsite that was slightly off of Shadow Lake Road.
"Since my raincoat was fluorescent, I stretched it out on the road in case an airplane or helicopter flew by," he says. "I also made an arrow out of birch bark and placed it beside the coat and pointed it towards where I was staying."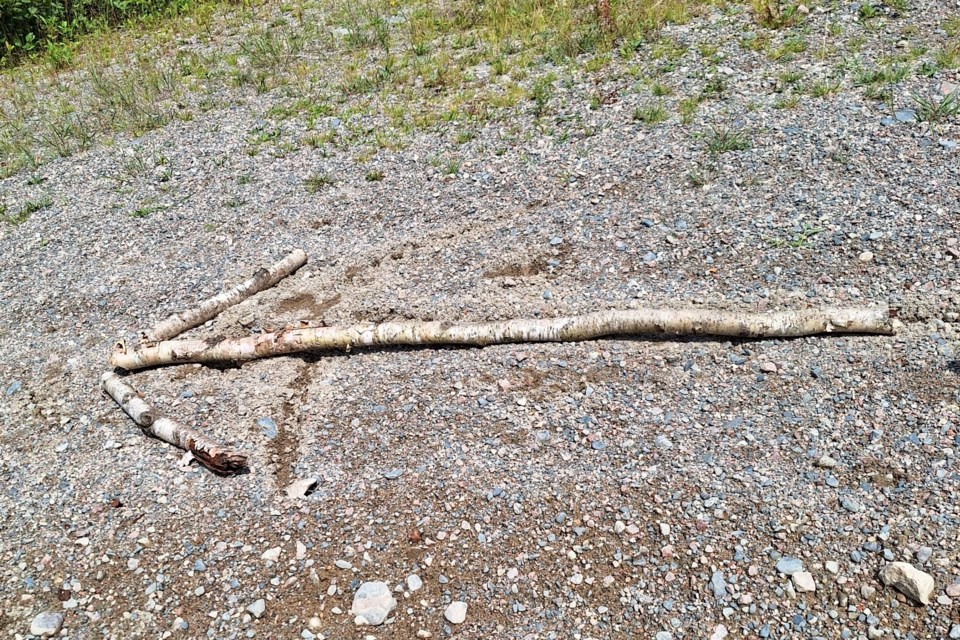 Noel believes the campsite belonged to a trapper since there were trapping trails in the area. He encountered a pair of small travel trailers when he made it to the site, but they were both locked.
At around 2:30 that afternoon, while sitting outside one of the trailers, Noel heard two four-wheelers driving nearby.
"I thought: 'I'm rescued, I'm out of here.' But I could hear one guy say to the other guy: 'Oh look, a Harley Davidson jacket — I'm going to keep that.' I think he rolled it up, put it on his four-wheeler, and they both drove away."
"My throat was completely dry because I really had nothing to eat or drink. My muscles were all blown out, and I was shaky because I had no insulin. I had no way of getting to them or calling for them in time."
By the time Noel made it on the trail, he discovered his jacket had been taken while the arrow remained untouched.
"They took my lifeline without even knowing it," he says. "If they're reading this, I would like my raincoat back please."
Several more hours passed, and Noel began to get increasingly desperate as his diabetes symptoms worsened.
"I didn't want to break the guy's [trailer] door down unless I really had to, but I knew I had to do something to survive," he says. "I broke the lock off and went inside. I looked around and found cereal, Gatorade, and snack bars."
"I knew I was going to survive another day at that point."
Noel slept inside the trailer that night. Nowhere near any main road and with no guarantee of running into another person, he began to self-reflect the next morning.
"At this point, I'm thinking I'm doomed," he says. "I might survive tonight, but I won't survive tomorrow. I already had two diabetic attacks. A third one could cost me. It was a race against time."
But then in the early afternoon of August 10, Noel made the discovery of a lifetime: an old four-wheeler behind one of the trailers.
"There was my freedom," he recounts. "I had one just like it back in the day. It was a bit of an older model, and I was pretty sure I knew how it worked. I knew this was my last chance of getting out of here alive."
Noel went back inside the trailer and eventually found the key to the four-wheeler in a drawer.
Shaking from malnourishment and a lack of medication, he put the key in the ignition, and the dash lit up.
"I couldn't believe it," he says. "I took the gas cap off and saw there was half a tank of gas. I knew I would have run out of gas before I made it back to my truck. I figured I'd be about seven to 10 kilometres short."
Noel found the main trail and began driving down Laughing Lake Road towards Ranger Lake. Roughly an hour and a half into the drive, he was rescued by the OPP — more than two days after his four-wheeler broke down.
"I heard someone yell: 'Stop!' This guy says: 'Who are you?' I said: 'I'm Don Noel.' He said: 'I'm so thankful we found you.' I had never been so happy to see a bunch of cops in my life."
Officers took Noel back down to Ranger Lake Road where paramedics assessed him before they transported him to Sault Area Hospital for precautionary measures.
He was released several hours later and celebrated a long-awaited embrace with his wife Sharon and his dog Max.
"I opened the door and walked in, and she's standing there crying," he recalls. "Of course, my little Chihuahua was jumping up on me like crazy and licking my face. I hugged them both tightly."
Throughout the ordeal, Noel took several videos and documented his experience so his family could understand what happened to him in the event he didn't come home alive.
Despite the overwhelming nature of those two harrowing days, the retired church caretaker says he didn't panic once.
"I knew if I panicked, they probably never would have found me," he says. "I knew I couldn't lose control and I had to make sure I was thinking straight at all times, which I had a hard time doing because I wasn't taking my meds."
Days later, his good friend Jeff drove up Laughing Lake Road to retrieve his four-wheeler when he came across the owners of the campsite that Noel was forced to break into.
"Jeff said he's a hell of a nice guy, and he wasn't upset about the trailer door or me taking the four-wheeler," Noel says. "He was very cool about the whole situation."
Northshore Sports & Auto, who sold Noel his Can-Am 650 ATV, have covered the costs of fixing up the machine among other outstanding fees he had owed them.
Great Lakes Outfitters also provided some instruction for Noel on some of the new tracking technologies that are available, including a Garmin inReach device that hooks up with your cell phone and can send and receive text messages even when there's no cell service.
"I really want to thank these guys and the OPP for everything they did for me," Noel says. "My advice for people is to please let your family know where you're going. If you're diabetic or have a medical problem, bring your meds with you — enough for a night or two in the bush. If I had done that, I would have been a lot better off."
"I made a big mistake, and I was knocking on death's doorstep."