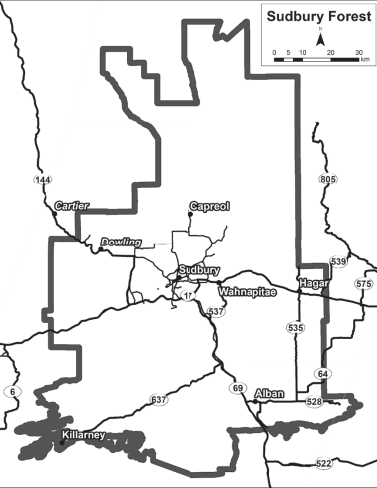 The April 1, 2022 – March 31, 2023 Annual Work Schedule (AWS) for the Sudbury Forest is available electronically for public viewing by contacting the Vermilion Forest Management Company Ltd., during normal business hours and on the Natural Resources Information Portal at https://nrip.mnr.gov.on.ca/s/fmp-online beginning March 15, 2022 and for the one-year duration of the AWS.

Scheduled Forest Management Operations
The AWS describes forest operations such as road construction, maintenance and decommissioning, forestry aggregate pits, harvest, site preparation, tree planting and tending that are scheduled to occur during the year.
Tree Planting and Fuelwood
Vermilion Forest Management Company Ltd is responsible for tree planting in the Sudbury Forest. Please contact the Forest Company listed below for information regarding tree planting job opportunities.

For information on the locations and licence requirements for obtaining fuelwood for personal use, please contact the NDMNRF staff listed below. For commercial fuelwood opportunities, please contact the Forest Company listed below.

More Information
For more information on the AWS, to arrange a remote meeting with NDMNRF staff to discuss the AWS or to request AWS summary information, please contact the NDMNRF staff below:

Matthew Hollands, R.P.F.
Ministry of Northern Development,
Mines, Natural Resources and Forestry
Sudbury District Office
3767 Hwy 69 South, Suite 5
Sudbury, ON P3G 1E7
tel: 705-564-7823 / fax: 705-564-7879
e-mail: matthew.hollands@ontario.ca
Office Hours: 8:00 a.m. – 5:00 p.m.

Scott McPherson, R.P.F.
Vermilion Forest Management Company Ltd.
311 Harrison Drive, Sudbury, ON P3E 5E1
tel: 705-560-6363 / fax: 705-506-7887
e-mail: vfm@sudburyforest.com
Website: www.sudburyforest.com
Office Hours: 8:30 a.m. – 4:30 p.m.

Stay Involved
Further information on how to get involved in forest management planning and to better understand the stages of public consultation please visit: https://www.ontario.ca/document/participate-forest-management-ontario/how-get-involved-forest-management
Renseignements en français : Genevieve Demers au genevieve.demers@ontario.ca ou 705 280-8908.