"I moved here to Canada in 1973. There was one Indian store in Montreal. We would make a trek on the Metro to go there. Back then, you couldn't even find yogurt in the major chain grocery stores. Look at how we have changed," Bela Ravi said.
We have changed. We have embraced the world. We have welcomed the world.
Walk through just about any store and there are two or three kinds of mangoes, spices from across the globe, coconut milk, piri piri flattened chickens, Vietnamese hot sauces, coffee from Papua New Guinea and Indonesia.
I counted 23 different kinds (not brands) of pasta on my last visit to a store at the Four Corners. It was not always so.
In the 1960s, 1970s and 1980s, though, there was one day a year that was a culinary calendar highlight.
July 1 was for me — as a child and later an adolescent — a chance not just to celebrate Dominion Day, but to taste the world.
It was all on display in one place. With a fistful of quarters, I felt like I was on a jumbo jet touring the planet. The arena was the place to be on or about noon. There was always sure to be a pipe band, folk dancing and what we once would have called 'exotic' cuisine.
We're talking, of course, about the annual July 1 multicultural food festival at Sudbury Arena. When did this annual event start?
"It's been so long, I don't even remember. I always had been a member of the India Canada Association. They always had a food booth and I volunteered. One thing led to another, and here I am," Ravi recalled.
My first samosa, maybe moussaka, kababs and desserts from everywhere called to me by my name. Jamaican patties and pan-African plates came later, but certainly Hungarian goulash, and perogies were fan food. I couldn't get enough. No swimming for me that day. Waiting an hour was not enough. I was stuffed with satisfaction.
Bratwurst and sauerkraut in this corner, and curries over there. Who knew just three decades later 'currywurst' would be the meeting, melding and mash-up of two cultures?
Bela Ravi knows food and also the value of acknowledging cultures. Breaking bread together regularly brings together more than 5,000 attendees to one place.
"Food, similarities or differences, makes for understanding of cultures. Curiosity, adventure, the unknown? Food brings everybody together," Ravi said. "Canada Day is important, and everyone loves the showcase at the arena. That event, no matter what trips we planned, I said to my husband we wouldn't leave until the 2nd of July, after the celebrations.
"I even had family come up to be here. They said it was better than anything where they lived. Of course in 2020 and now again in 2021, the Multicultral and Folk Art Association, and I as president, needed to rethink how to continue the tradition even if we couldn't and can't mix and mingle. We need to show everyone … we are better together and we are stronger together. We need to come together and celebrate our differences."
So how to put on an event when you can't mix and mingle, as Ravi said? You get help.
"Collaboration with Science North, that was and is the answer," Ravi said. "It is virtual and like last year will feature performances. In the culinary component, restaurants will show you how to make a dish from that culture."
The performances are already taped in advance with COVID protocols in place. For details, click here.
For Bela Ravi and her committee this is the final week to finish the planning for this event.
"We hope to be back in the arena next year. We had hoped things would open up in time for this year. All the delegate members are anxious, so this fall we may have an event.
Last year, the virtual event featured greetings from dignitaries, the singing of the national anthem in three languages (English, French and Ojibway), as well as cultural performances and science experiments. This year's event will be similar, but with some new additions.
"This year we are still doing all the above, but we are adding international cuisine and crafts. A couple of the ethnic restaurants in town will each be doing a cooking lesson; so far, Apollo and Sahar of Sudbury have committed."
Ravi said there are more than 70 countries represented in Sudbury.
"No city in Canada is like Sudbury — that's true! One of our newer groups is the Nigerian community." We talk about the powerful message the Bridge of Nations delivers to citizens and visitors to Sudbury. "We are grateful to the Greater City of Sudbury as a supporting partner and there was a grant from Heritage Canada. Science North will have it on their Website. Eastlink carried us also last year."
Lastly, I just have to ask Bela Ravi why we love Indian food. "Flavour, it's all about the flavour. The spices, and colour, too. It is attractive."
And she is right — here is a recipe for your Canada Day celebration.
White Chicken Curry / White Chicken Korma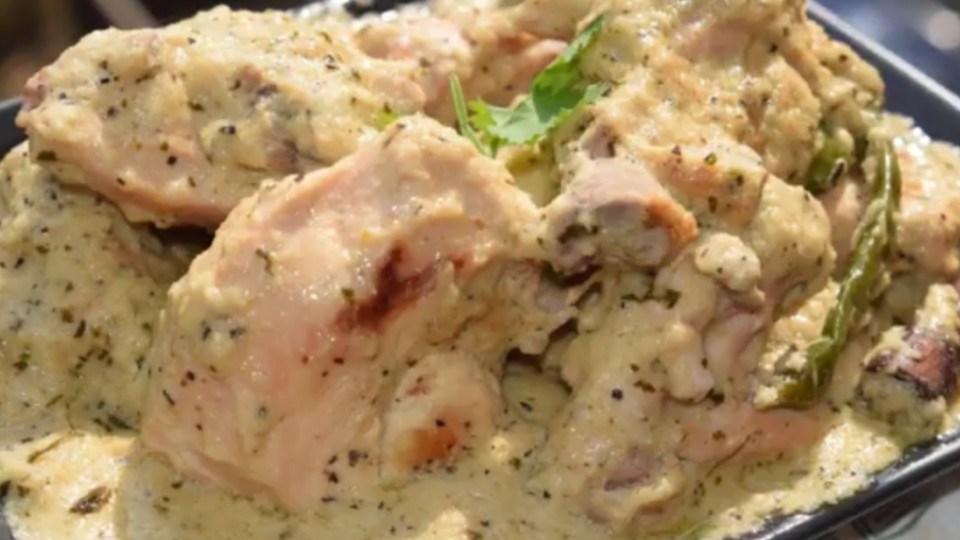 Ingredients
I lb chicken
2 tbsp lemon juice
1 tsp salt
1 tsp black pepper
2 tbsp yogurt
4 tbsp cooking oil
10-15 cashews
2-3 green chilies (depending on how spicy you would like)
2 bay leaves
1 brown cardamom
2 green cardamom
1 cinnamon stick
2 medium-sized onions, puréed
2 tbsp garlic ginger paste
½ tsp fenugreek leaves(crushed)
Coriander leaves to garnish
Instructions
Marinate: Place chicken in a bowl, add lemon juice, salt, black pepper and yogurt. Mix well and let it sit for 30-45 minutes.
Soak the cashews and green chilies in warm water for 15 minutes. Make paste.
In a non-stick pan, add oil and heat over medium for one minute.
Add 2 bay leaves, one brown cardamom seed, two green cardamom seeds, one cinnamon stick.
Cook for a minute.
Add puréed onion, cook for two minutes.
Add ginger garlic paste cook for two minutes.
Add the marinated chicken, mix evenly, cover and cook on medium heat for 10 minutes.
Open lid, stir well, cover lid and cook on medium heat for another 10 minutes.
Add cashew/green chili paste and half cup of water. Cover and cook until the oil separates (few minutes)
Add two tablespoons of cream (optional), and sprinkle fenugreek leaves, cook for a minute.
Plate, garnish with coriander leaves.
Ideally, serve with rice or naan bread.
Hugh Kruzel is a freelance writer and committed foodie in Greater Sudbury. Let's Eat is made possible by our Community Leaders Program.