Easter and Passover are traditionally holidays when we gather with loved ones. But in light of physical distancing recommendations during COVID-19, that's not possible in many cases this year.
How can we still stay connected and appreciate each other's company from the safety of our own homes?
Try these outside-the-box ideas this holiday weekend.
Join the 2020
Contactless

Easter Egg Hunt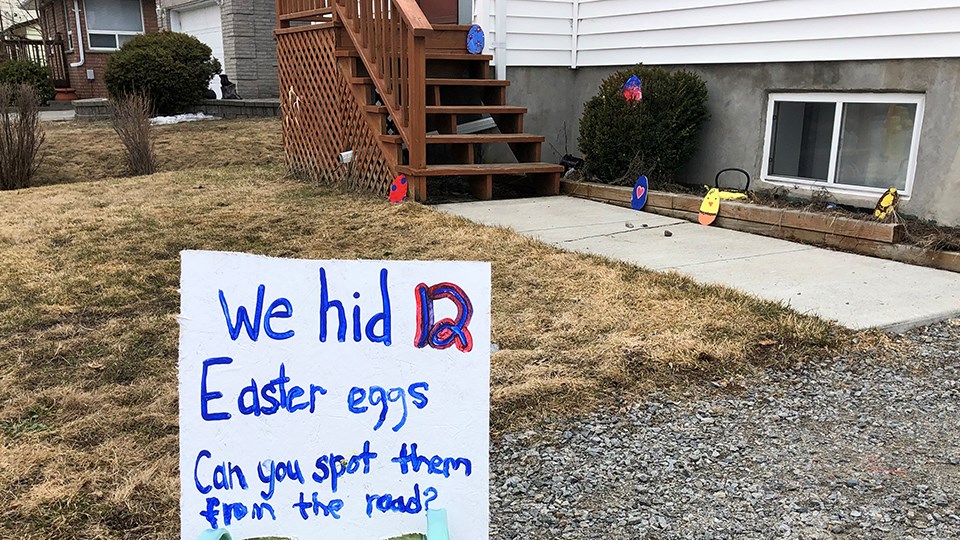 There is a great Easter egg hunt underway in cities across Canada and the USA.
Communities are painting and hanging colourfully decorated Easter eggs in their windows, front doors and front lawns.
Families are encourage to get out of the house and walk around the block and count as many Easter eggs they can spot in their neighbourhood.
Remember to keep the recommended two-metre distance from others who may be walking by as well.
Get inspired and check out the Northern Ontario Contactless Easter Egg Hunt on Facebook.
Family bake-off

Challenge your family and friends to an Easter dessert bake off.
Chose a moderator or host and have family and friends from other households submit photos of their best Easter dessert. Make sure the photo doesn't include hints that could identify the baker.
The moderator can share the photos with the entire group via email or even a video conference call. Everyone participating can cast their votes for the one they like best!
Virtual Charades

Use video conferencing like Zoom or Google Hangouts to mimic or imitate a movie, book or celebrity for friends and family in other households.
First person to guess wins that round!
Make it extra Easter-y by creating clues that are only Easter or spring related.
This can be adapted for Pictionary, if drawing is more your thing.

Unfamiliar with the game Charades? Read the rules here.
Easter bingo

The host emails players a list of 24 words or objects that are Easter or springtime related.
Participants draw or print off blank 5x5 bingo cards. Remember, the middle space is always a FREE space.
Using only the words included in the list provided, everyone writes or draws a word in each of the blank bingo spots.
When everyone is ready, the host randomly calls-out words from the list until someone gets a line (or two if you want to up the ante).
This game will work with regular voice calls or all players can join a video conference call.
Organize a talent show

Perfect for antsy little ones who are missing their friends and family.
Get the children (adults can take part too!) to come up with a skit or segment to show-off their talents.
Using Zoom or Google Hangouts video conferencing, let each child have a turn in the spotlight. Others watching can cheer or hold up score sheets after each performance.
Arrange a special visit for the Easter Bunny

It's Not a Party Without Us won't let a pandemic get in the way of making kids smile. The local business known for its inflatables and other party rentals offers contactless visits from your child's favourite characters including the Easter Bunny.
There is no contact but you can book the time of arrival and take photos from inside or a safe distance away.
Click here to book a special visit or phone 705-618-5867.
Good Friday Service

Like many clergies, Restoration Church Ministries is offering online services to support their congregations during the COVID-19 pandemic.
The church is holding a virtual Good Friday service on April 10 from 12 p.m. to 1 p.m.
Click here to join-in on Facebook or visit restorechurch.ca
Order food delivery for a friend in need

Help lift the spirits of a friend or family member in need by purchasing a take-out meal from their favourite local restaurant and pay to have it delivered to their home.
Check out this list of Sudbury restaurants that are open.
Watch a movie together using Netflix Party

Do you miss going out to the movies with friends? Now you can host long distance movie nights and TV watch parties at home.
Netflix Party synchronizes video playback and adds group chat to your favorite shows. Now you can all enjoy the mad world of "Tiger King" together!
Here's how:
First you'll need to install the Google Chrome extension by clicking the "Install Netflix Party" button here.
Once you are redirected to the Chrome Web Store, click "Add to Chrome" to finish installing Netflix Party.
Go to Netflix's website. Choose any show you would like to watch and start playing the video.
To create your party, click on the red "NP" icon located next to the address bar. Then click "Start Party" to get the party started, and share the party URL to invite friends.
Guests will need to click the party URL, which will redirect to Netflix's website. Then click on the "NP" button next to the address bar, and you should automatically join the party.