When Canadian television icon Jeanne Beker was diagnosed with breast cancer in the spring of 2022, she decided to share her story openly.
She said she has a close friend who had gone through breast cancer and had kept it secret, and saw what a burden that was for her.
"I didn't have the guts to keep the thing secret," said Beker, speaking Nov. 14 at the 25th annual Luncheon of Hope fundraiser in support of breast cancer care and research in Northeastern Ontario.
The 71-year-old Beker said she was also "brought up with the belief that our personal stories are the most precious gift that we can give one another," and made a career out of being an open book.
So the first day in the chemo chair at the Princess Margaret Cancer Centre, she went on Instagram and shared that she had breast cancer.
"And overnight, my Instagram following doubled," said Beker, who's best known as the host of FashionTelevision from 1985 to 2012, but now hosts a Shopping Channel show called Style Matters.
"The love and the support and the messages that came to me were just astounding … We do not have to be alone in this journey."
A three-centimetre mass was found in her left breast after her routine mammogram. She had no inkling that anything was wrong, and no family history.
The mass turned out to be Stage Two breast cancer with no lymph node involvement. Beker underwent chemotherapy, radiation and a lumpectomy.
"And all the while I was getting this drug Herceptin for an entire year, every three weeks," she said. "That is a real lifesaver. It's a miracle drug. So to make a long story short, so far, so good. You know, I survived, I got the all clear."
Dark moments
While Beker approached her cancer treatments with positivity, that didn't mean there weren't some dark moments. The radiation treatments were especially difficult.
Beker said because her cancer was in her left breast, with worries the radiation could affect her heart, "there's a special breathing technique that you have to use with this kind of snorkel, and some weird contraption."
But Beker has always been afraid of holding her breath. The daughter of Holocaust survivors, she said her mother's family suffocated in a bunker during the Second World War, leading to that fear.
"It was the only time I really broke down in tears at the hospital, because I didn't think I could do it, but somehow I did it," she said.
Beker said she has dense breasts, and because of this, she should have been going for mammograms once a year, plus she should have had additional screenings such as ultrasounds and MRIs.
Hearing the recent news that women in their forties will be able to self-refer for breast screening in Ontario, Beker encourages them to go for the test.
"I think people are afraid to find out what could be wrong with them, but not finding out is far worse, because early detection is absolutely key when it comes to breast cancer," she said.
'Luckiest girl in the world'
Despite her recent experience with cancer, Beker said she's the "luckiest girl in the world."
She told Sudbury.com she aims to normalize the conversation around cancer — especially breast cancer — and eradicate some of the fears surrounding the disease, as cancer is no longer no longer necessarily a death sentence.
"All I ever wanted to do is communicate and share," she said. "I got to do it for a whole lot of years talking about clothes and colours and silhouettes and hemlines."
Not wanting to put fashion down, as she said it's a great way to communicate with the world, Beker said she is glad to be able to share her cancer journey, as "I have this opportunity to talk to people about things that really matter in such an integral way.
"It's been an incredible blessing. So when I say this has been the most extraordinary year of my life, it certainly has, and honestly, I wouldn't have it any other way."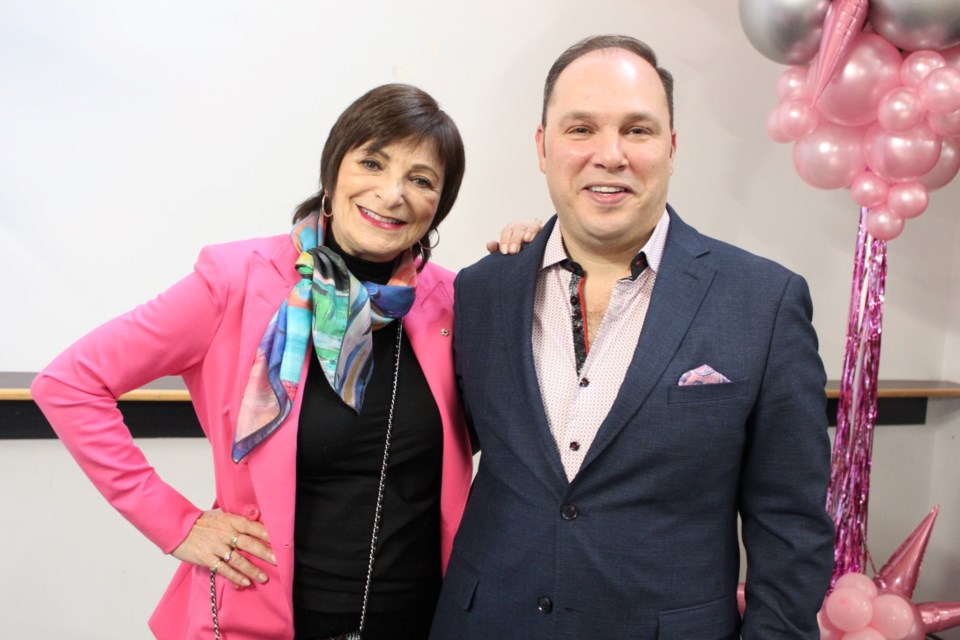 Luncheon of Hope has raised $1.1 million in 25 years
Bringing Beker to Sudbury for the Luncheon of Hope and hearing her story is an "incredible opportunity," said Anthony Keating, president and chief development officer with the foundations at Health Sciences North.
"I just hugged Jeanne Beker, how exciting is that? My mom is not going to believe me," Keating joked following Beker's speech.
Keating said the event has raised $1.1 million over the past 25 years, with organizers expecting to bring in another $50,000 with this week's event. The funds go towards breast cancer research and care at the Shirley and Jim Fielding Northeast Cancer Centre and the Health Sciences North Research Institute.
In the Luncheon of Hope's 25 years, there have been some "incredible advancements" in breast cancer care, he said.
The popular fundraiser, organized by a dedicated volunteer committee, "is the type of thing that really helps elevate the research that we are able to do to really make a difference," Keating said.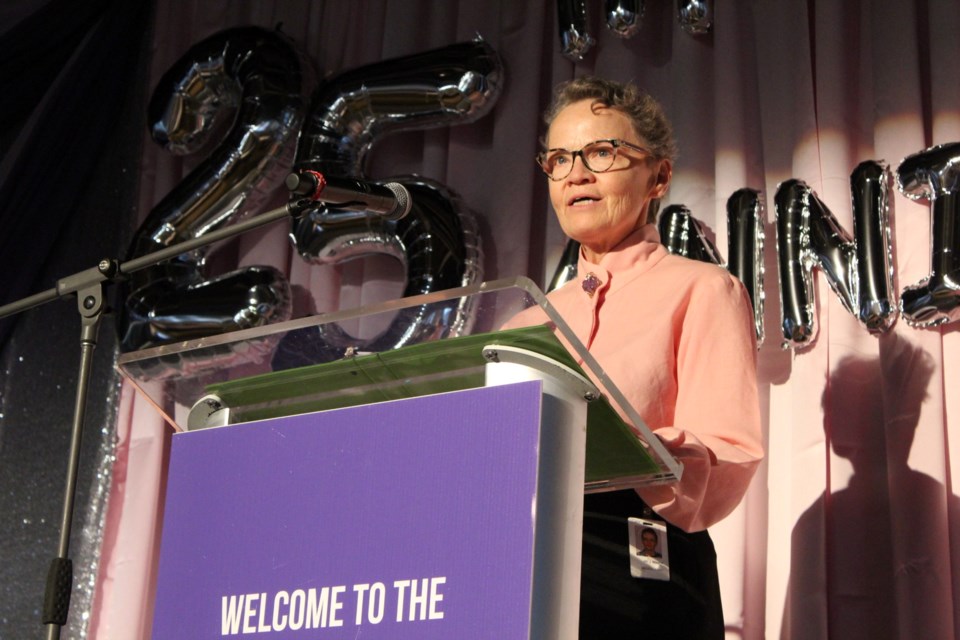 The future of breast cancer care
Dr. Julie Bowen, a radiation oncologist with the Shirley & Jim Fielding Northeast Cancer Centre, shared some of the improvements in breast cancer care that have come about as a result of clinical trials.
That includes reducing the number of radiation sessions patients receive during their treatments. "That change made a huge difference in quality of life for many women," she said, adding that it takes courage for patients to participate in these trials.
Bowen said there have been an "astounding" 49 clinical trials in this part of the province over the past 35 years.
Currently, there are several ongoing breast cancer specific clinical trials happening in this area, including trials that further fine-tune who benefits from radiation treatments, and how extensive and how many radiation treatments patients should receive.
"And then a third trial is testing a new technology developed in the north in aid of understanding if the chosen chemotherapy is working to destroy cancer cells in more advanced breast cancers," Bowen said.
"Needless to say, these are expensive undertakings with huge amounts of detail, but with the potential for tremendous benefits for the future in patient care, and breast cancer outcomes.
"Events like these are one way in which the community gets involved supporting our researchers, our patients and the future of care."
Heidi Ulrichsen is Sudbury.com's assistant editor.