The parking lot at the Norvic Motel in Wahnapitae is full of vehicles. Every room there has been booked.
Dennis Bouffard is one of the motel's guests, a worker with Aecon Construction. He has been staying at the Norvic for three weeks now, and he said he's been a regular at the motel for much longer than that.
"I've been staying here off and on for the last eight years," Bouffard said. "I've never had a problem. If we have a little problem, we tell them and they fix it right away."
In one word, he described the service at the motel as "excellent".
While Bouffard described the motel's service as excellent, business appeared to be good. At least, if you were looking at the actual motel, and not its website or business pages that can be found online.
Norvic Motel owner Minesh Patel said that at around noon on Monday, July 27, he received a phone call from his brother in the United States. His brother suggested for him to take a look at the reviews of his motel online. Fifteen minutes later, Patel said the motel's phone began to ring with regularity, calls that he described as harrassing in nature. Patel said these calls continued until midnight.
Sudbury.com visited the motel on Monday night after phone calls requesting comment from hotel staff were answered, only to be hung up upon shortly after. Upon arriving at the motel, a woman in the office opened the door. She held a phone in one of her hands and wiped tears that streamed down her face with the other. The woman asked to see our reporter's identification because she said that throughout the day, people had impersonated reporters over the phone.
The Patel family business has become the subject of a single, widely shared post on social media that had more than 5,700 shares by late Tuesday morning.
This is a screen shot of what Facebook user Sherry Allen posted on July 30: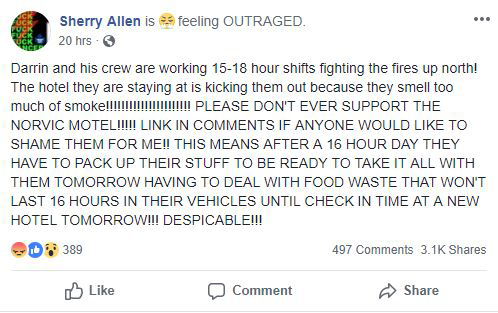 "Darrin and his crew are working 15-18 hour shifts fighting the fires up north! The hotel they are staying at is kicking them out because they smell too much of smoke!!!!!!!!!!!!!!!!!!!!!! PLEASE DON'T EVER SUPPORT THE NORVIC MOTEL!!!!! LINK IN COMMENTS IF ANYONE WOULD LIKE TO SHAME THEM FOR ME!! THIS MEANS AFTER A 16 HOUR DAY THEY HAVE TO PACK UP THEIR STUFF TO BE READY TO TAKE IT ALL WITH THEM TOMORROW HAVING TO DEAL WITH FOOD WASTE THAT WON'T LAST 16 HOURS IN THEIR VEHICLES UNTIL CHECK IN TIME AT A NEW HOTEL TOMORROW!!! DESPICABLE!!!"
In comments on this post, Allen identifies Darrin as her husband. Initially, Facebook users who shared the post appeared to believe that Darrin is a firefighter. Some shares of the post may be seen here:

Late Monday evening, Allen responded to a Facebook user who wrote a comment saying she "thought he (Darrin) was a firefighter", with the following clarification: "my husband is a railway worker..he also has crohn's disease and needs amenities I would not allow him to stay in a camp..." Sudbury.com requested an interview from Allen on July 30. Allen agreed but has not contacted Sudbury.com.
Patel said no firefighters have stayed at his motel since his family took ownership of it one month ago. He said that the majority of his guests are regulars: workers who come through the area for work and who stay in Greater Sudbury throughout the business week. Between Thursday night and Saturday night, after the workers check out, short-term guests tend to book the rooms.
Such appears to be the case when a guest arrived very early on Friday, July 27, and checked out on Monday, July 30. According to motel staff, the guest was a single occupant who stayed for two days in a non-smoking suite, and for one day in a smoking suite. Patel said that when that guest checked in on July 27, his staff explained that the rooms being booked were available only until check out time on Monday, July 30. Patel insisted that no confrontation took place between himself and the guest at any time. Patel also explained that as the rooms that the guest had stayed in were reserved by other guests for Monday check-in, no payment or reservation was received for a stay beyond Monday check out time.
Sudbury.com confirmed with guests that reservations of the smoking and non-smoking rooms that were said to have been previously occupied by the CN worker were made in advance. Both occupants of the rooms said that they have stayed at the motel since the Patel family took ownership of it one month ago.
Longtime guest James Morrish said that he has not seen firefighters at the motel. Every Thursday, after he finishes his work for Hydro One, Morrish heads home to Timmins. For three days every week, Morrish has stayed in the non-smoking room that the CN Rail worker had allegedly stayed in. Asked when he checked in, Morrish responded, "I checked in in January. I booked for the whole year. I booked Monday to Wednesday since January, and I'll be here until Christmas."
He said that he has booked the same room every time because of its number.
Alfred Doupe has been staying in one of the motel's smoking suites for at least one month, allegedly in the same room that the CN Rail worker checked out of on Sunday. After working for Hydro One every Monday through Friday, Doupe said that he has plans to stay at the Norvic, "Pretty much all summer, but I'm not here all the time. Just through the week, that's about it."
Sudbury.com asked when he booked his room.
Doupe said, "I told them last week."
Doupe also said that he hasn't seen any firefighters staying at the hotel in the one month that he's been staying there through the work week.

Patel said that the motel has no policy forbidding firefighters from staying at his hotel, or for smelling like smoke should they come.
"We are welcoming to everybody," he said.
As such, he said he has been picking up the phone, even if words on the other end are not so welcoming.
"Right now, we just take the phone call and say Norvic Motel and they're starting all bad words," Patel said.

Patel's family members said that they have felt afraid when he is not with them at the motel. The female employee who answered the door for our reporter stayed at the desk after Patel had left on Monday afternoon.
"I had to go to the police station by myself. I told her, lock the door. Anyone comes, don't open the door. That's it. If you need help, call 911, that's it. We are new here."
Greater Sudbury Police Service said in an email they received a call at about 3:15 p.m. on July 30 from an employee at the Norvic Motel regarding a threats complaint.
Information provided is that an irate previous customer has been calling and making threats toward the motel.
The investigation into the matter is ongoing.
Check back for more on this story as it becomes available.