Safe Ride Home Sudbury will begin ferrying people home safely from holiday festivities starting Nov. 24.
It's the 25th season volunteers with the service have been driving clients home in their own vehicles to prevent impaired driving.
"We're gearing up to make sure everyone gets home safely to prevent impaired driving," said Safe Ride Home Sudbury President Lesli Green during the official launch earlier this month.
Greater Sudbury Police Service is a program partner. Chief Paul Pedersen described Safe Ride Home as an important component of their top priority, which is crime prevention.
"I can't think of any better, more direct crime-prevention campaign than taking impaired drivers off the roads before they get on the roads," he said.
With an average of approximately 8,000 Greater Sudburians using Safe Ride Home each year, he openly asked how many lives might have been saved thanks to the work of volunteers.
"It's about protecting lives and protecting our community as a whole," Pedersen said. "We truly are proud to be partners."
Safe Ride Home Sudbury divides the city in blue (more urban) and red (more rural) boundaries. The service operates from 8 p.m. to 2 a.m. in both boundary areas. In the red (rural) area, the last call for a ride is at 1 a.m., while in the blue boundary area the last call for a ride is 1:30 p.m. As well, for calls in the red boundary, rides may not be guaranteed after 11 p.m.
Check out the Safe Ride Home service area map below.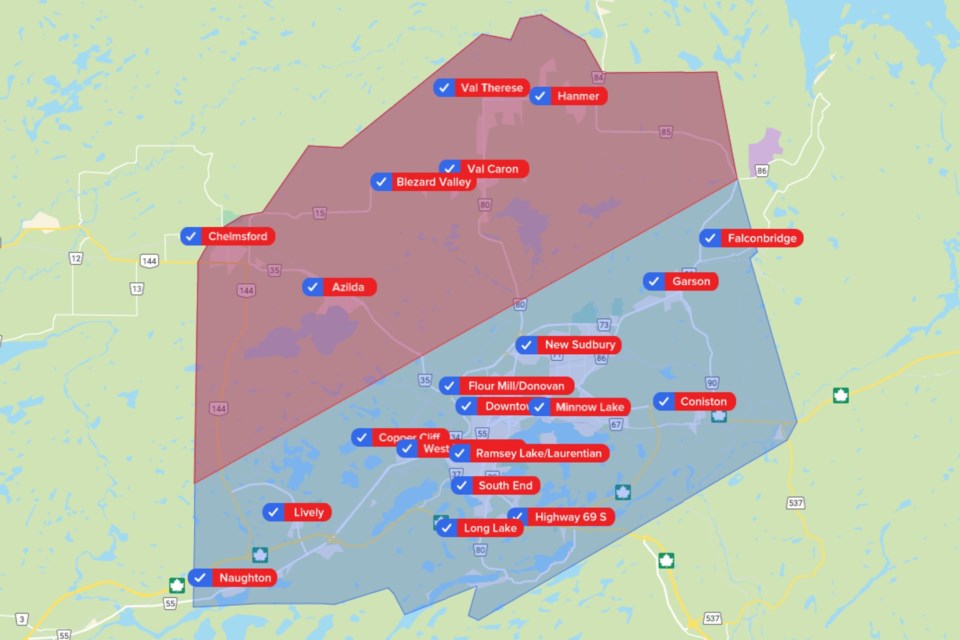 Volunteers are needed to ensure the service can run.
"People can volunteer solo, with friends, and family or organize a group from their workplace," Safe Ride Home Sudbury said. "Teams consist of a designated driver (DD), who drives the client(s) home in their own vehicle and an escort driver, who transports the DD between calls in their personal vehicle."
For info on volunteering and an online application form, click here.