The Conseil scolaire public du Grand Nord de l'Ontario and École secondaire Macdonald-Cartier (ESMC) are pleased to announce some exciting news. The school has officially launched its Mining Specialist Major program, which targets both students in the enriched science program and those who are passionate about the trades.
The program offers a diverse range of courses from electrical trades to organic chemistry to finance and geology - this program has something for everyone.
"We have all the state-of-the-art facilities to offer the Mining Studies program. We didn't want this program to focus simply on the traditional trades, but also, and more importantly, on high technology, science and the environment. Students will be able to choose a specialization of their choice, whether it be more in the trades, robotics, business or even science. This program will take advantage of the school's new science labs," says school Principal Josée Tremblay.

ESMC alumnus and Mine Backfill and Tailings Management Specialist at Responsible Mining Solutions Jean-Louis Roberge says, "It is important to ensure that there is a new generation of environmentally sensitive people in the mining sector." He also points out that it is a sector with huge career opportunities that allow people to stay in Northern Ontario, enjoy the outdoors on a daily basis and benefit from a lifestyle that he feels is superior to that of large urban centres.
For Samantha Lewis, another ESMC alumna, learning about automotive power and technologies allowed her to follow her passion. And thanks to her co-op placements at ESMC, she also discovered an interest for heavy equipment mechanics. Today, she is pursuing an apprenticeship as a heavy equipment mechanic technician at Vale Mining.
Lewis points out that although there are not currently many women represented in the trades and in the mining sector, she was pleasantly surprised to see how welcoming and energetic the industry was during her integration in the sector.
ESMC's Mining Specialist Major program allows young people to explore different career options that they may not have otherwise considered. Lewis strongly recommends that women enroll in a trade course when they enter high school as part of the new Mining Studies program.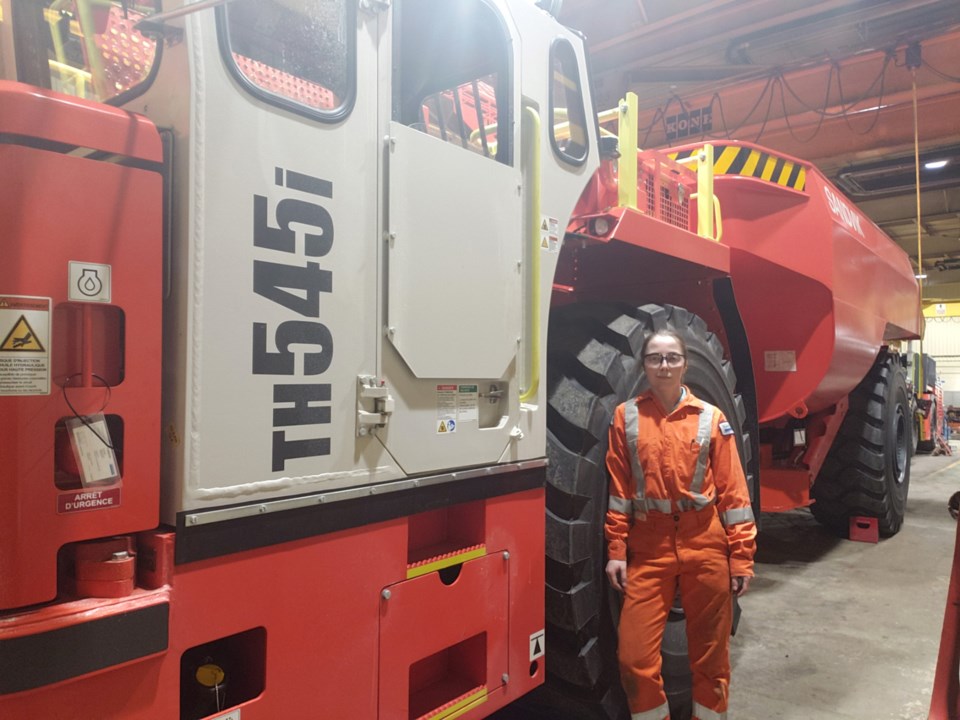 According to a report prepared by the Mining Industry Human Resources Council (MiHR), the job outlook for the next few years is favorable and stable. Moreover, the mining industry is enthusiastic about welcoming a diversified succession. The MiHR states that there are more than 120 professions in the mining industry.
Tremblay wants to give her students a taste of the opportunities that exist in the mining sector, a sector that remains pivotal in Sudbury and the northern part of the province. With the support of her team, Tremblay also continues to develop several partnerships with industry leaders to provide students with authentic and unique learning experiences.
The first cohort of students in the program started last September and registration is already underway for the second and third cohorts. Program Coordinator Ronald Poulin emphasizes that interest is growing and encourages early registrations. Prospective students and their parents can contact the school directly to find out how to begin exploring careers in the mining industry.
Want more information? Call (705) 566-7660 or send an email to: esmc@cspgno.ca.