Why support local?
You've probably heard that supporting local is good for the local economy – but what does this actually look like? It's the shop owner who knows their customers by name, or the café that employs your friend, family or neighbour. It's the business that sponsors your child's hockey team or donates to the local charity fun run.
When you purchase goods and services locally, it means more money is kept within the community. Often, local businesses are also purchasing products from other locally-owned businesses which also benefits the local economy. Local business owners usually live in the community and have a vested interest in the future of that community.
Local businesses also often donate more to local non-profits than non-local owners. Local businesses also tend to be small businesses, which contribute to 68.8% of the total private labour force in Canada and were responsible for 35.8% of net labour growth from 2014 to 2019 (Government of Canada, 2020).
Supporting local is even more important in light of the COVID-19 pandemic, where local support can be the difference between a business shutting its doors or weathering the storm. As David MacLachlan, Executive Director of Destination Northern Ontario notes, "What's important right now is having folks supporting and engaging with [local businesses] that are available to them in the area so that we have them in the future." A majority of pre-pandemic tourism customers in Northern Ontario came from across the border, which also poses significant challenges for local businesses. MacLachlan highlights this issue, noting, "We have a lot of tourism operators that, because of border closure, lockdown and restrictions, don't have access to [their] traditional clientele and markets," making local support especially important for the success of local businesses.
How to support local (and have a great time doing it)
1. Hub Trail Pub Crawl
Take the scenic route through Sault Ste. Marie with some choice stops along route. The John Roswell Hub Trail is 26 km of paved multi-use trail that takes folks through various spots where you can take in the city's natural beauty such as Fort Creek Conservation Area, Whitefish Island and Bellevue park to name a few. What can also be found a short stop off the path? Restaurants, breweries and ice cream shops! Check out this suggested route provided by Red Pine Tours for a gastro cycling tour of Sault Ste. Marie. Try the route on your own or have Red Pine Tours lead you through a custom gastro tour, curated just for your taste buds. The Hub Trail was created with support from the Sault Cycling Club. To support the development of local cycling infrastructure check out the Sault Cycling Club's website.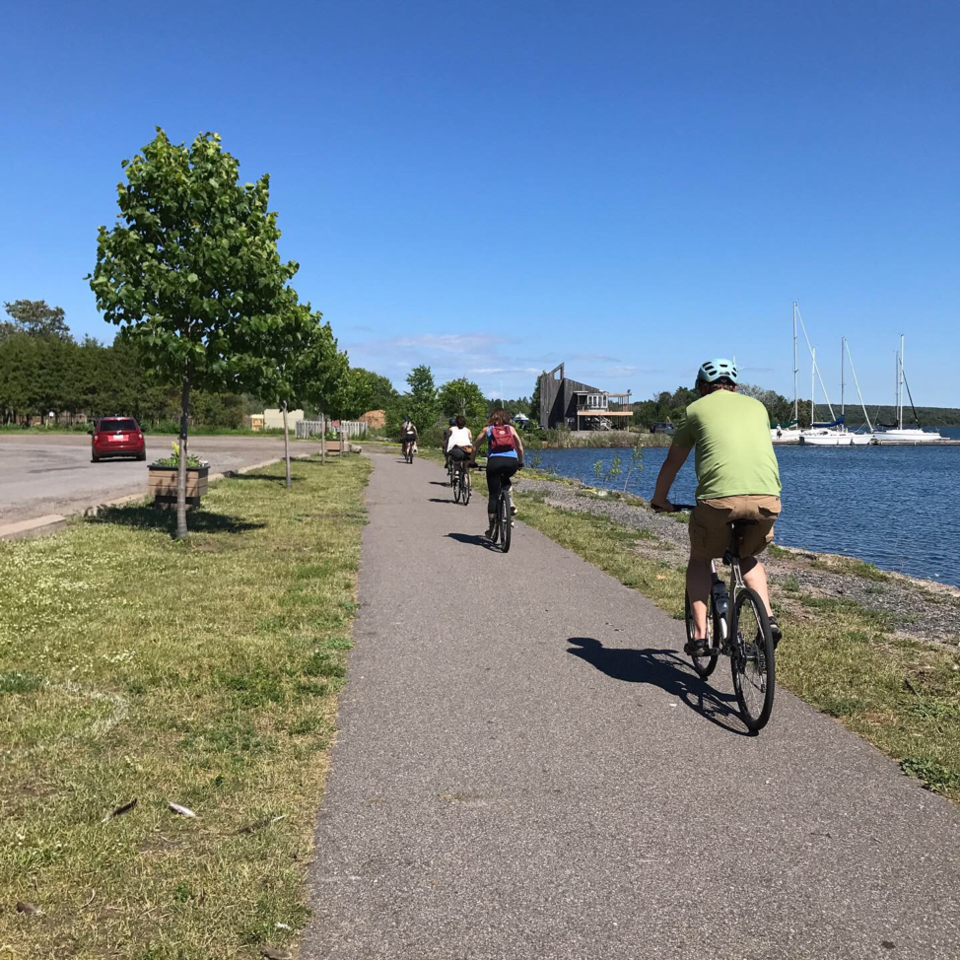 John Roswell Hub Trail. Photo credit: Reg Peer
2. Book a tour in your own backyard
Just because we live in Northern Ontario doesn't always mean we know where to go, right? Let someone take care of the route and planning by booking a tour with a local touring service. A number of great touring experiences exist in Northern Ontario that can help you see your backyard in a whole new way.
Guided Tours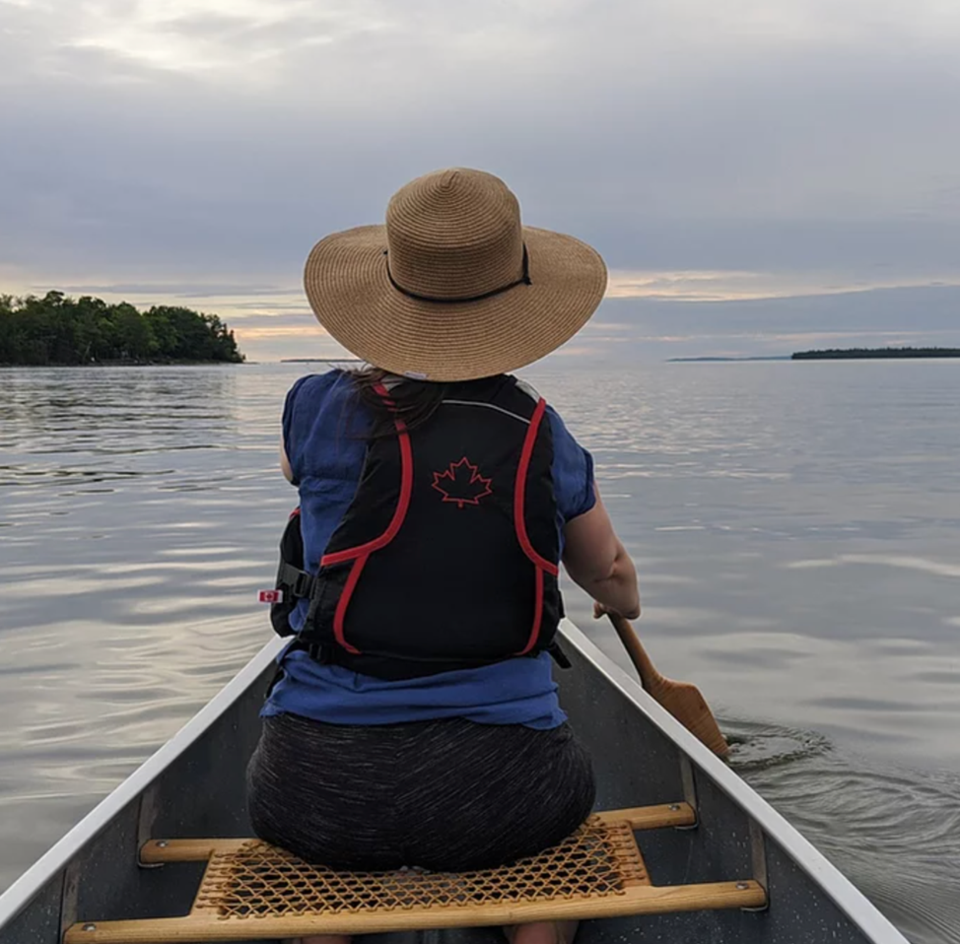 Photo credit: Forest the Canoe
Sault Ste. Marie
Try a snowshoe, hike or paddle with Forest the Canoe, and Thrive Tours. Tyler Dunn Guiding, John Guiliani's Fishing Adventures and Angling Algoma provide fishing tours while Red Pine Tours can show you the region by bike.
North Bay
Not sure what kind of tour you would like? Off the Beaten Track Adventures (OTBT) in North Bay can take you on a Mystery Adventure Tour. OTBT Adventures also blends culinary experiences with the outdoors with their Fondue with a View and Brews and Cruise tours.
Thunder Bay
Seek Adventure & Tours in Thunder Bay can take you on anything from an urban food tour to outdoor adventures in the boreal forest.
Self-Guided Tours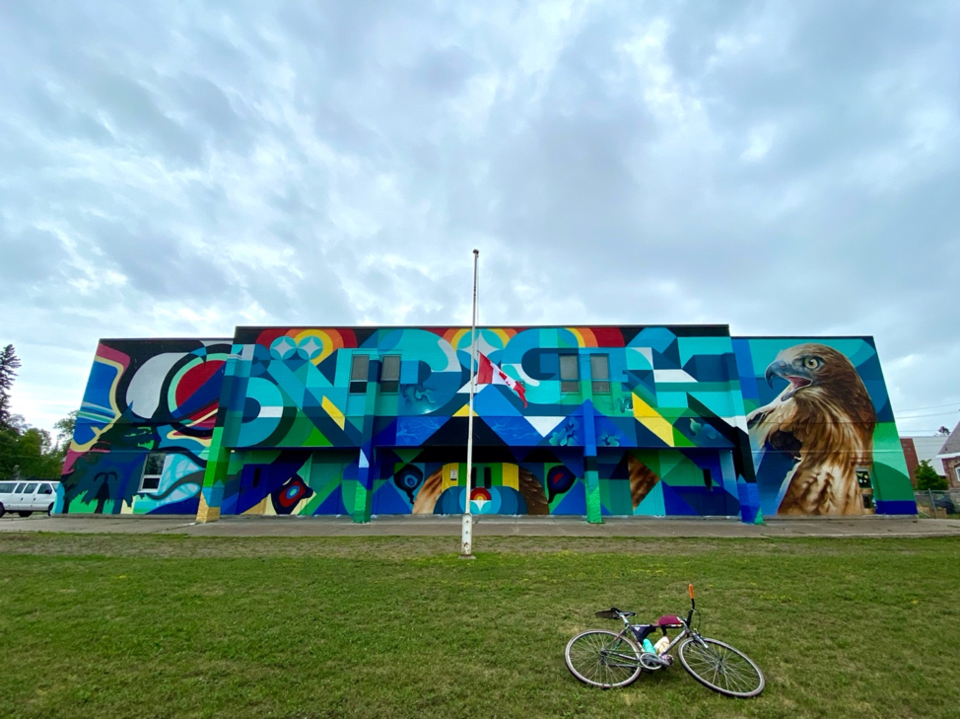 Former Etienne Brule Public School in Sault Ste. Marie. Photo credit: Reg Peer
Sault Ste Marie
Self-guided cultural walking tours are available in Sault Ste. Marie using the On This Spot interactive app which offers users cultural-based tours that highlight public art, the town's history and waterfront.
Lake Superior's North Shore Region
Hanging out in the North shore region of Lake Superior? Picnic with purpose by following one of Superior Country's self-guided tours that combines breathtaking coastal views of Lake Superior and tasty local cuisine. Superior Picnic Adventures communities include Nipigon, Dorian, Schreiber, Terrace Bay, Red Rock and Marathon.
Thunder Bay
Learn how to make Gouda cheese at Thunder Oak Cheese Farm, play "Heritage Hide and Seek" or ride along Lake Superior by motorcycle. These are but a few of the self-guided tour options in Thunder Bay. See here for more self-guided tours in the region.
3. Plan your next staycation
Watching the sun go down with only the sounds of a crackling fire and loon calls in the air at a remote cabin in the woods sounds pretty majestic, right? Local tourism operator Blaq Bear Adventures, partnered with the Algoma Highlands Conservancy, helps make this picturesque scene a reality with a stay at Norm's Cabin. Talk about tranquility - Norm's is the only cabin on Bone Lake, just north of Sault Ste. Marie and offers accommodations for up to six people. To book a stay at Norm's, contact Carole Blaquiere with Blaq Bear Adventures.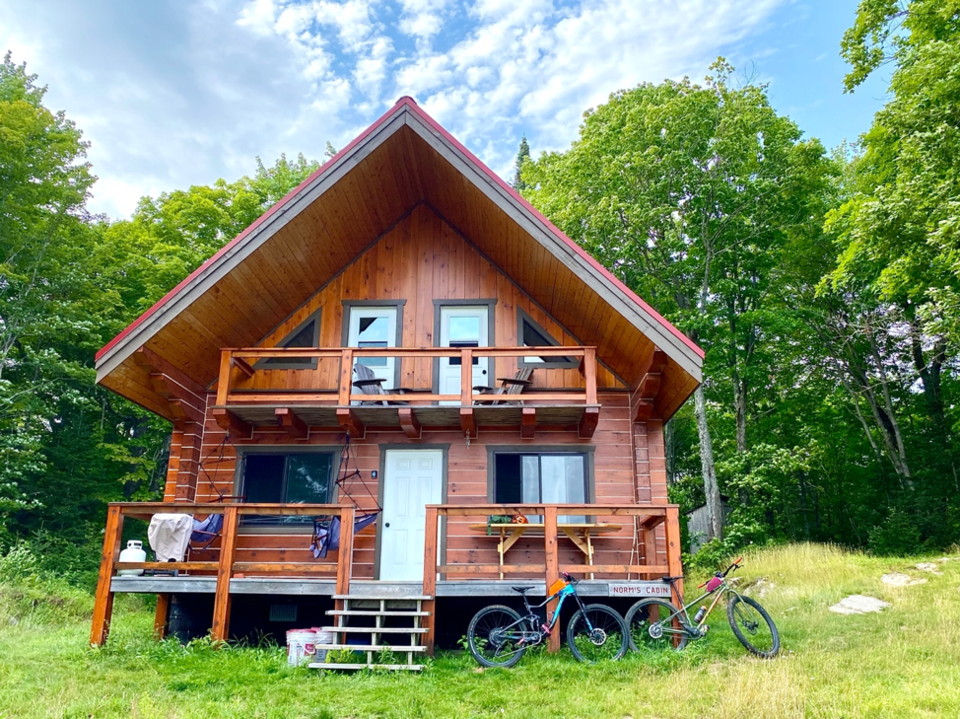 Norm's Cabin is located just north of Sault Ste. Marie. Photo Credit: Reg Peer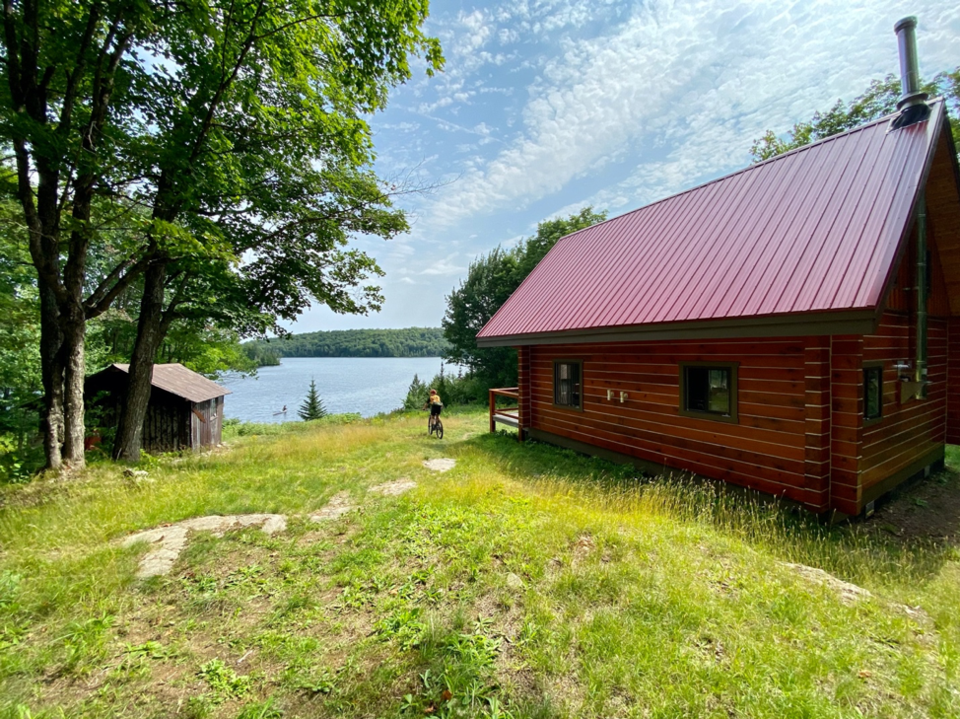 A view of Bone Lake from Norm's Cabin. Photo Credit: Reg Peer
4. Share your local experiences on social media
Share your staycation or local tour on social media. Sharing your experiences at local restaurants, breweries, or adventures within your community can go a long way towards supporting local. Try writing a Google or Facebook review of your favourite restaurant, or sharing images on Instagram of your experiences within the community. Research by Nielsen (Whitler, 2014) suggests that 92% of consumers believe that a positive recommendation from a friend, family member, or someone they trust, is the biggest influence on whether they buy a certain product or service.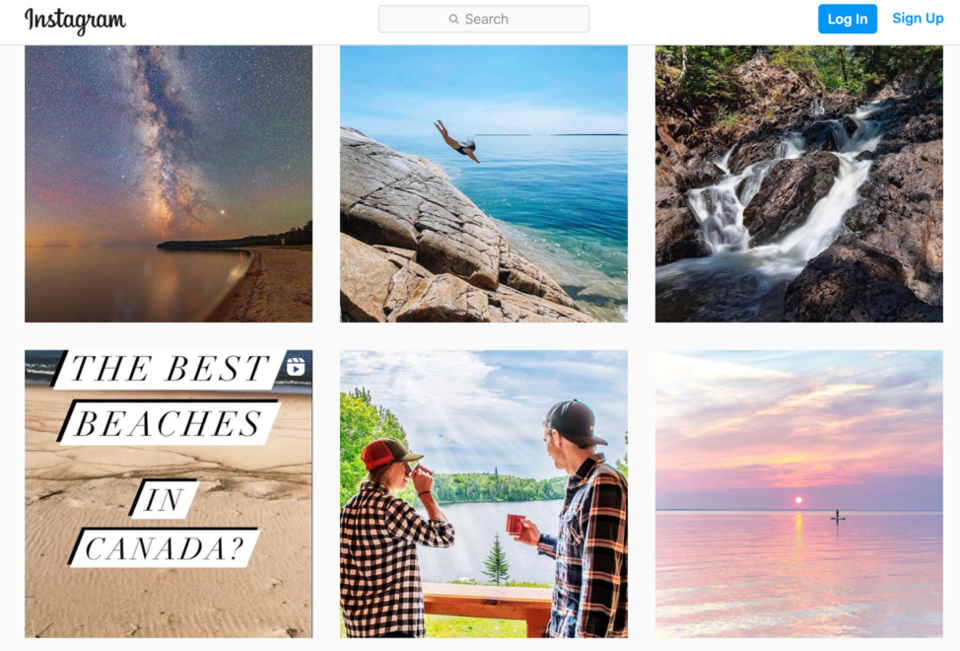 Photo Credit: Instagram.com/sault.ste.marie (@sault.ste.marie).
Left to Right: Jeff Dixon, Miranda Sandvik, Ben Wright Films, Sault Tourism, Algoma Highlands Conservancy, Kevin Patricio.
Want to find out about more northern travel experiences? Check out:
About Destination Northern Ontario (DNO)
Destination Northern Ontario is one of 13 not-for-profit regional tourism organizations funded by the Ontario Ministry of Heritage, Sport, Tourism and Culture Industries. We are the largest tourism region in geography, the second largest in expenditure and the only region that includes sub-regions.
Our Vision:
Northern Ontario will be a unique and distinctive tourism destination wherein high-quality products and experiences resonate with consumers, entrepreneurship is valued, and tourism provides local, regional and global connections for the entire region. Destination Northern Ontario will take a leadership role to strategically guide and champion growth in Northern Ontario's tourism industry, through strong communication, collaboration and partnerships with industry.
For more information on Destination Northern Ontario, please visit: www.destinationnorthernontario.ca. Follow us on Twitter or on Facebook for the most up-to-date news and information.