Everyone knows it's better to give than to receive. But what if you could give a heartfelt gift of good health, and get a little something for yourself as well?
This holiday season, give confidence. Give strength. Give physical and spiritual connectivity. Give from the heart and you'll receive a 24-ounce Moetus Health stainless steel water bottle valued at $38.95 when you spend $250 or more in gift cards during the month of December.
Your loved ones can redeem their gift for a range of therapeutic services including Physiotherapy, Functional Movement & Fascial Therapy, Shockwave and PEMF Therapy. Gift cards may also be redeemed for Moetus Health fitness classes, including their popular Pilates programs.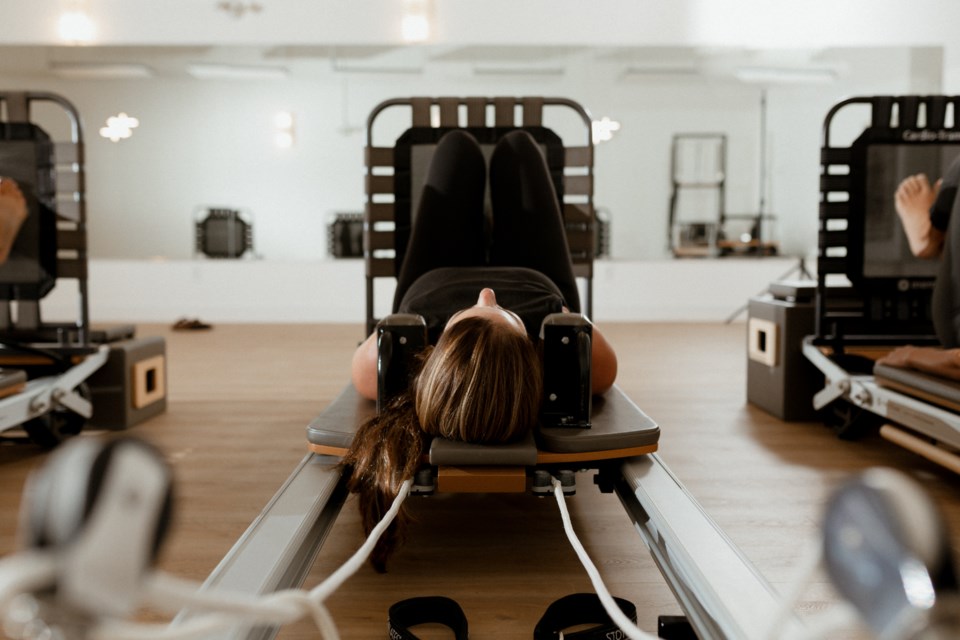 What is Pilates?
Pilates was created in the early 20th century by Joseph Pilates; a sequence of coordinated exercises working together with breath, to work the smaller and deeper stabilising muscles of the body as much as the superficial mobilisers. The practice utilizes core strength to develop functional and sustainable movement patterns throughout the body.
Jenine Saunders, owner of Moetus Health in Sudbury, explains what makes Pilates a great workout for woman and men of all ages and fitness levels. "Pilates is for everybody regardless of gender, age, size, ability, fitness level or flexibility", says Saunders. "Pilates is something anyone can do; whether you are an office worker, a weekend warrior, pregnant, undergoing rehabilitation, or are a competitive athlete."
Pilates is a low-impact exercise with dynamic movements that are deceptively challenging when done in sequence. These movements work to align the entire body's overall structure while supporting the joints. And while Pilates can create the long, lean, sculptured aesthetic favoured by celebrities, studies show it also has a positive effect on people's mindset and a significant impact on reducing chronic pain.
The benefits of Pilates extend far beyond the physique. Pilates can:
Increase core strength and boost energy with focus on breath work
Improve posture, flexibility, mobility and balance
Decrease back pain by targeting deep abdominal muscles and pelvic floor to contract and release
Prevent injuries by balancing the muscles and allowing the body to better stabilise through movement
Enhance body awareness, sports performance and cognitive function
Decrease stress
Boost immunity through increased circulation, especially in older adults
Strengthen bones and reduce the chance of developing osteoporosis or fractures
Boosts mood!
Improves sleep
Reformer Pilates at Moetus Health
The Pilates repertoire, which includes mat and specialised equipment exercises, is made up of over 600 exercises and variations.
Moetus Health offers a range of class options that include both Mat Pilates and Reformer Pilates. The significant difference, explains Jenine Saunders, is that Reformer Pilates provides neuromuscular facilitation or 'assistance with resistance'.
"The resistance created by the Pilates Reformer allows for more feedback to the brain, and results in improved coordination of movement patterns. The Pilates Reformer can build muscular endurance efficiently in a non-weight bearing manner, making it easier on the joints. In fact, a 2016 study concluded that Pilates equipment has an edge over mat exercises in regards to injury rehabilitation."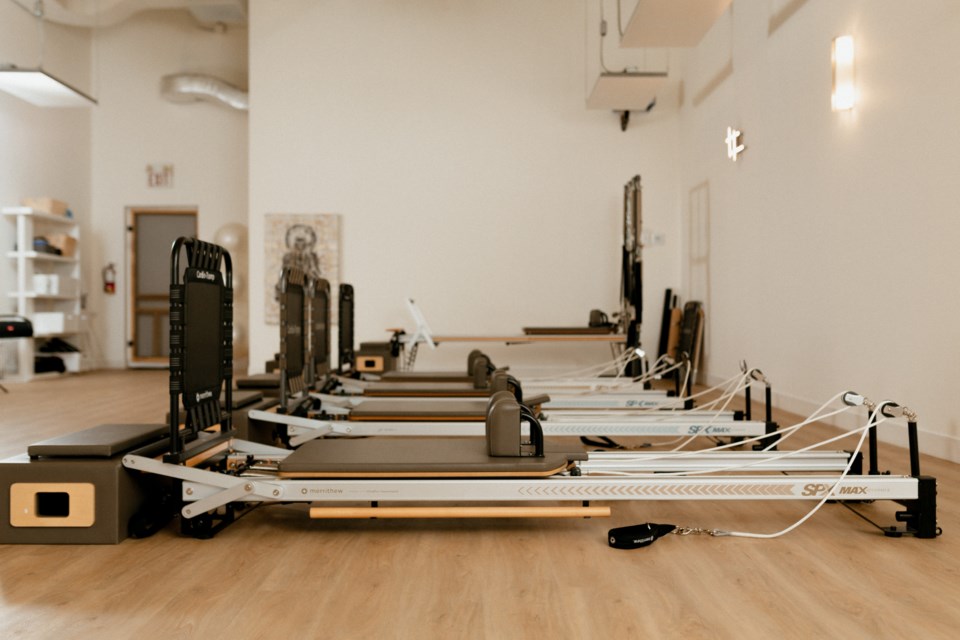 With a variety of class options available, including the new 7-week "men's only" morning group sessions, Moetus Health is a great choice for anyone looking for a fun and effective Pilates workout in Sudbury.
"Our Pilates classes have quickly become our most popular classes! We offer 20 Reformer classes and three Pilates matwork classes per week," Jenine says, adding "We've just received our fifth Reformer and are looking to purchase a sixth one in the New Year to keep up with the demand. It's great to see a community so committed to Yoga embrace this 'new' way of moving. "
No matter the age or fitness level, gift cards for Pilates (or any of the wide variety of therapeutic services offered at Moetus Health) are always a great choice. And, since you're in the giving mood, consider giving yourself the gift of good health too, with a fitness regime that delivers consistent and positive results: Pilates at Moetus Health.
Learn more and book your session online today, call 705-674-1877 or stop by their new location in the Four Corners on Long Lake Road at Paris Street in Sudbury.