Inspired by the example of her father and driven with a passion to see others succeed, Mary-Liz Warwick has, for decades, been a beacon for those looking to learn, blossom and prosper in Greater Sudbury.
With a Master of Arts in Interdisciplinary Studies with a focus in Educational Studies, Mary-Liz was instrumental in the growth and prosperity of both the Learning Disabilities Association of Sudbury (LDAS) & the Northern Ontario Centre for Learning Differences (NOCLD).
Serving as the Executive Director for the LDAS for four years until 2019, Mary-Liz forged creative partnerships while engaging the public and private sector in support of a mission to build brighter futures across Northeastern Ontario for those students identified with an exceptionality, such as a learning disability.
Early in her tenure, she was able to secure over $600,000 to establish the NOCLD and expand LDAS services offered in Sudbury to other communities in Northeastern Ontario, including North Bay, Timmins, and Sault Ste. Marie, to support more than 5,000 students and their families.
"As Executive Director I was very passionate about helping support students in need," explains Mary-Liz. "It's important to advocate for what's right, and to promote human rights in schools, which all led to my current role in the post-secondary sector."
Today, Mary-Liz Warwick serves as the Student Success and Transition Navigator at Cambrian College.
She plays a vital role in the academic journey, assisting youth to make the transition from high school to post-secondary and become full-time students and learners. She is also key to supporting and retaining those students who face barriers or are coming from marginalized or remote communities.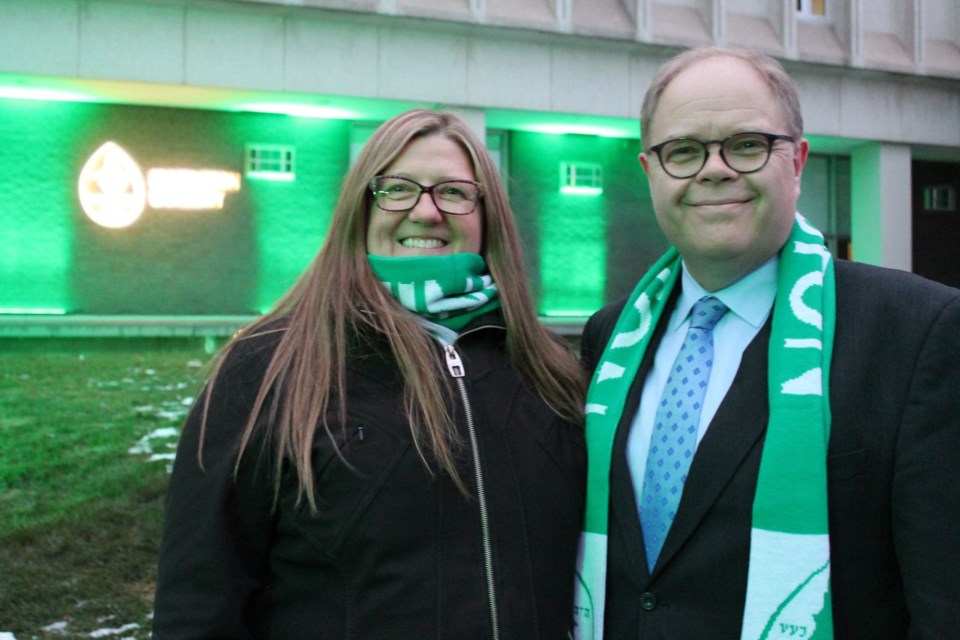 For Mary-Liz, her dedication to academics and the betterment of education is more than a profession; it's a calling. She has been a long-serving member of the Huntington University Board of Regents, and Chair, since 2013.
She also has a long personal history with Huntington.
Warwick's father sat on the first Board of Regents, designed the university's flag, and was named an Honorary Fellow. Her mother has an Honorary Doctorate from the institution, and her stepfather was a Chancellor/Chancellor Emeritus.
She took piano lessons at the school as a child, and years later was herself enrolled in the Huntington University Communications Studies program from 2009 to 2012. Evidently, Warwick's roots at Huntington run deep which is why she remains such a keen supporter of the institution.
"Under the leadership and guidance of Dr. Kevin McCormick, President and Vice-Chancellor, the university has successfully established several Centres of Excellence, such as the first Teaching and Learning Centre in the north, the Peruvian Canadian Institute and the Canadian Finnish Institute, which have all enhanced northern Ontario's academic landscape," says Mary-Liz.
"We are especially proud of our international work and are actively engaged in creating new opportunities for growth, with a plan of forging new relationships and partnerships with other countries, organizations, and students based on our shared values and goals."
However, as a leader, she also acknowledges the difficulties the last two years have brought to the doorstep of one of Northern Ontario's longest-serving universities.
"The biggest challenge right now is rebuilding Huntington while maintaining our reputation as a community leader, with Dr. McCormick leading the way. Our university has been in a period of transition since early 2021. We have plans to further expand our global projects and higher education programming, but this will continue to take time and planning. We are leveraging the partnerships we have built over the years, and take pride in knowing our successful institutes and centres of excellence give us a strong foundation upon which to make our vision a reality. So, despite the last two years, I think it's actually an exciting time for Huntington to create and re-envision what our future looks like, and I'm excited to see where we end up."
Learn more about Huntington University here.