Subaru of Sudbury is moving—and changing its name.
On July 4, 2022 the new Palladino Subaru will have a brand-new home.
"Our awesome team of automotive professionals is moving locations from 2097 Long Lake Road to 1115 Kingsway, a state-of-the-art facility worthy of the Subaru brand and its loyal fan base," says President & CEO, Vince Palladino.
This space will be home to Palladino Subaru, selling both new and used Subaru vehicles, with the same safety, quality and reputation that drivers have come to expect from the brand.
The reason for the move? They outgrew the location and the company felt that the Subaru fan base deserved a truly remarkable new facility.
The building is all that and more.
It offers a heated service drive-in, a service concierge, a comfortable customer lounge with complimentary WiFi and workspace, an indoor delivery space, a coffee and refreshment bar, 16 TV tile display, 7 service bays, an Aqua Rama Italian Car Wash, 20,000 square feet, and an 8-car showroom. It will also be home to the Palladino Auto Group Corporate team.
"The same great team you've come to know and trust with your vehicle will be moving, and with two additions who are key pieces from other Palladino Auto Group dealerships, we are dedicated to providing a level of customer service that will be unmatched," says Palladino.
Other advantages include its central location in the city, the sheer amount of space it offers and the range of amenities available.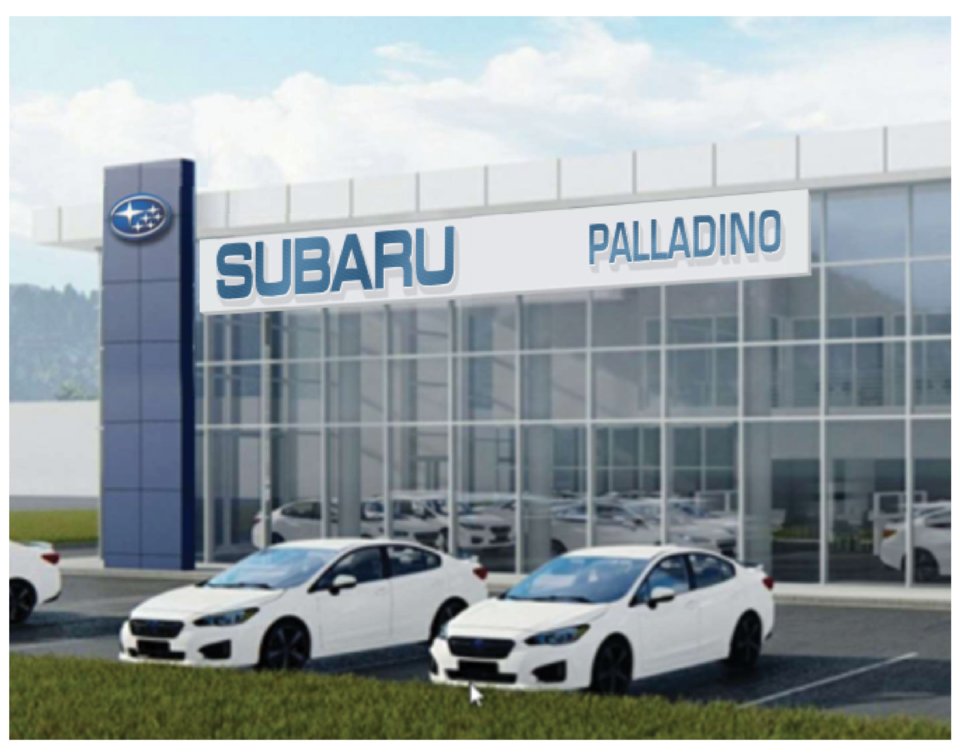 A bit of history
Subaru of Sudbury has been on Long Lake Road for over 40 years, so this is an historic move. Previously known as Sudbury Fine Cars, it was purchased by the Palladino Auto Group in 2018 and the dealerships were separated into their respective brands: Subaru of Sudbury and Mercedes-Benz of Sudbury.
The Palladino name is very well-known in the automotive industry.
For over 50 years it has been recognized for its excellent reputation. Today the organization has advanced drastically from its original incarnation, though its core values and traditions remain. The company prides itself on its loyal team of committed staff, its forward-thinking vision, and its dedication to exemplary service.
"The expansion within the Palladino Auto Group began in 2011 and has grown, spanning across Ontario in Sudbury, North Bay, Toronto, and London—and we're not done yet," says Palladino.
About Subaru the brand
There's something in the industry known as "the Subaru difference". The company is committed to designing and engineering high-quality, safe, fun-to-drive vehicles, all with the aim of giving the Subaru driver an unsurpassed level of confidence behind the wheel.
They have consistently ranked as one of the top vehicle manufacturers.
The Palladino Auto Group will officially open its doors to the public at Palladino Subaru on Monday July 4.
It will service Sudbury, Parry Sound, Sault Ste. Marie, Timmins, Manitoulin Island and beyond.
In addition to selling brand-new Subaru vehicles, Palladino Subaru will also offer an extensive line-up of certified pre-owned vehicles. Subaru-certified technicians have undergone extensive training and possess the tools, knowledge and skills necessary to service Subaru vehicles, along with all of the pre-owned vehicles.
Palladino Subaru is inviting all members of the public to come by the new dealership, get to know the team and experience their unmatched level of customer service.
For more information, visit Palladino Subaru or call 705-419-2285.