Greater Sudbury is the largest urban centre by population in Northern Ontario. It is also the second largest by land area in Canada and is situated within traditional Ojibwe lands.
Known as a major mining centre, Sudbury plays an important role in the economy of not just the province of Ontario, but the country as a whole. The community also provides a number of important services that cover a wide area in the north, including trade, health care, education, finance and professional services.
"We have the third-largest Francophone population in Canada (outside of Quebec), and are home to people of many different ethnic backgrounds. We have large populations of residents with Italian, Finnish, Polish, Chinese, Greek and Ukrainian ancestry, just to name a few, making us one of the most diverse, multilingual and multicultural communities in Canada," says Enrique Paraco, Immigration Development Officer with the City of Greater Sudbury.
Challenges
In 2016 the population of Greater Sudbury was 164,689, according to the Canadian census. Some of the details revealed were quite telling, including the fact that more than 1 in 5 people in the workforce were over the age of 55.
Clearly, the population is aging. In the transportation sector, more than 30% of workers were 55+ and in the public administration, professional services and finance sectors, 27% of workers were close to retirement. Furthermore, the aging workforce poses a real risk for the local economy. In the next 15 years, 36,000 people are estimated to retire from the workforce, while only 25,000 people will be available to replace them.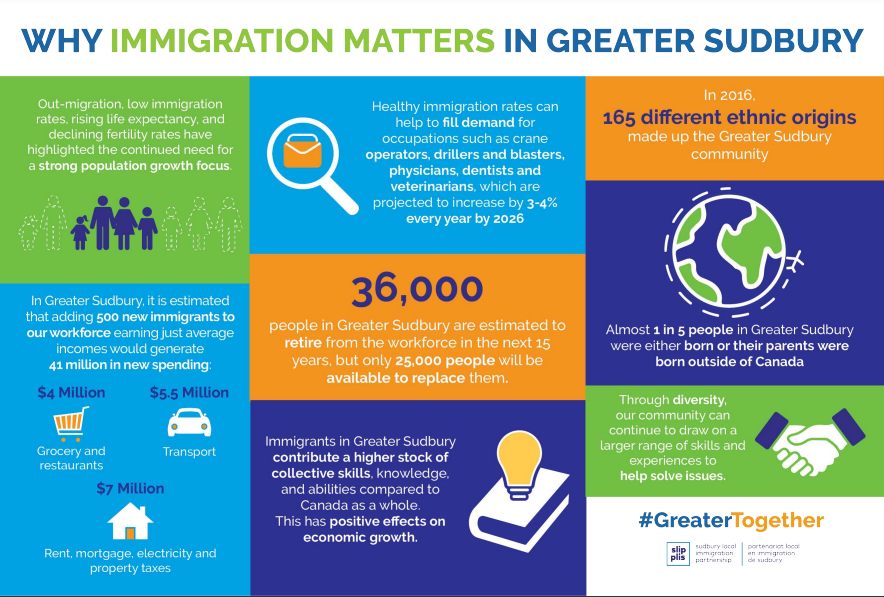 Of course, having such a dynamic economy comes with its own set of challenges and opportunities. One of those challenges is the need to increase the size of the workforce in order to support Greater Sudbury's economic growth. The opportunity would be to tap into immigration and international talent; it's one of the many resources available to support local social and economic needs.
Opportunities
The biggest opportunity for Greater Sudbury involves attracting people from outside the region—students, workers, business owners, young people and families, in particular.
Immigration can help communities flourish and thrive. Adding 500 new immigrants to the local workforce earning just average incomes would generate $41 million in new spending. This would include $4 million in food expenditures at grocery stores and restaurants, $5.5 million for transportation expenses and $7 million in housing costs (rent, mortgage, electricity and property taxes).
Along with other efforts to boost the workforce, increasing the number of immigrants settling in Greater Sudbury is a strategic move to ensure the talent pipeline is large and strong enough to meet local industry demands and provide a source of new entrepreneurs. These immigrants could come as students, workers and business owners, who fill important roles in the economy and boost demand for local goods and services. This is one of the reasons why Sudbury is part of the Rural and Northern Immigration Pilot, established to help communities attract and retain foreign skilled workers to meet their economic development and labour market needs.
However, Sudbury's Francophone population is older on average, with 40% over the age of 55. A large number of immigrants to Canada are French-speaking. In 2016, there were 110 Francophones living in Greater Sudbury who moved to Canada between 2011 and 2016. In Moncton, New Brunswick, an urban centre with roughly the same population, there were 645, and in Winnipeg there were 625. In Ottawa, there were more than 3,000 Francophone immigrants who moved to Canada between 2011 and 2016. Attracting more French- speaking immigrants could help to ensure Greater Sudbury's Francophone population continues to thrive.
"We see immigration as an important tool to reverse some of the challenges that the Sudbury economy is facing," says Paraco.
The community continues to grow, based on census results from 2021. Greater Sudbury is seeing positive trends in population growth, though some numbers were impacted in 2020 due to Covid-19. The City of Greater Sudbury saw a positive population growth of 2.8%, while other communities in the north saw negative growth.
How immigration is changing Greater Sudbury for the better
Currently, you'll find residents in Sudbury who are of Indian, Italian, Finnish, Polish, Chinese, Greek, Ukrainian, German, Hispanic, Korean and Filipino heritage.
Recently the community has changed due to the arrival of a large number of international students. "By the second quarter of 2018 we already had over 4,000 new students in the community. During 2019 and 2020, over 3,600 international students settled in Greater Sudbury. Students are playing a big role in supporting many sectors, such as customer service, retail, mining, etc." says Paraco.
Most important is that newcomers are welcomed into social life and can quickly develop a strong sense of Canadian identity and social cohesion. Retention is the goal. A number of organizations offer settlement services to help newcomers integrate and find what they need, including employment and registering their children for school.
How the city is helping
As mentioned above, the city is participating in the Rural and Northern Immigration Pilot, a forward-thinking project that helps to bring experienced talent with fresh perspectives to Greater Sudbury. The program works to address local labour force shortages, encourages immigration and population growth, and is a unique permanent residence pathway for international workers. Successful candidates must secure a job offer in the community and meet both federal and community criteria.
The Local Immigration Partnership is another important mechanism in place. An initiative of Immigration, Refugees and Citizenship Canada, the group—Greater Sudbury's is one of several across the country—is dedicated to removing barriers for newcomers and helping them settle. To do this, key community partnerships are formed, between employers, school boards, health centres, boards of trade, government, professional associations, ethno-cultural organizations, faith-based organizations and the community and social services sectors.
Immigration can ensure that Greater Sudbury remains an economic engine for Northern Ontario. Newcomers have so much to offer and make important contributions to the civic, social and economic life of the community. Says Paraco, "Newcomers are here to grow roots and be part of our community."