As minister of National Health and Welfare from 1993 to 1996, Diane Marleau's efforts to protect Canada's universal health care system from erosion can make the city proud to call her one of our own.
The accomplishments of the former Liberal Member of Parliament for Sudbury, who died Jan. 30, 2013, are often overlooked because her influence had waned by 2008 when she was defeated by NDP candidate Glenn Thibeault.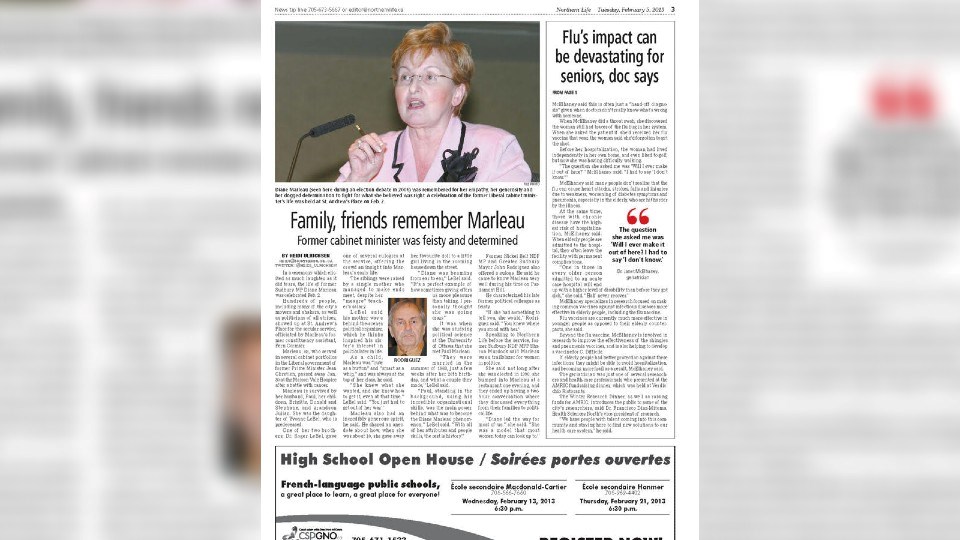 Marleau represented Sudbury in Ottawa from 1988 to 2008 after a short career as a municipal councillor. She held the riding, created in 1947, longer than any other politician.
Named an Influential Woman of Northern Ontario in 1998, she recalled for Northern Ontario Business that she grew up poor in Kirkland Lake. Raised by a single mother who was a teacher, the Franco-Ontarian learned English by reading books.
The former Diane LeBel studied commerce at the University of Ottawa where she met her husband, Paul Marleau, a chartered accountant who would become a successful businessman in the Sudbury area. He held senior positions in Mid-Canada media companies owned by Baxter Ricard.
Marleau completed a bachelor's degree in economics at Laurentian University in the 1970s and worked as an accountant. She served on several high-profile boards before entering local politics.
At the municipal level, Marleau was chair of the finance committee and is credited with introducing a pay-as-you-go policy that prohibited borrowing on capital investments. The policy was instrumental in eliminating the Regional Municipality of Sudbury's debt. Marleau also supported one-tier regional government.
She was considered the "Margaret Thatcher of Sudbury," for her conservative fiscal policy, reporter Edward Greenspon wrote in The Globe and Mail in 1994.
Losing a bid for mayor in 1985 did not discourage her from pursuing a career in politics. When Sudbury MP Doug Frith announced he was retiring from politics, she sought and won the Liberal nomination in 1988.
Marleau won her seat, but Progressive Conservative prime minister Brian Mulroney was handed a second majority government.
When the Liberals were returned to power in 1993, Prime Minister Jean Chrétien put the hard-working but low-profile 50-year-old mother of three in his cabinet as health minister.
The federal health portfolio is a key post but a thankless job.
Marleau told Toronto Star reporter Rosemary Speirs in 1993 that she was as "an ordinary Canadian" with a real life and the same values most Canadians have. She believed Canadians should have access to the best health care and should not have to pay for it.
She said her experience working in a doctor's office made her a staunch defender of medicare.
"I was a medical secretary from 1964 to 1969, and one of my jobs was to collect from patients and from the insurers … It was not unusual to see someone paying $5 every two weeks on their medical bill.
"I saw what happens to a family when a father suddenly gets ill, the loss of wages and the fear especially when it is a serious illness and at the same time being hit with medical bills. Or it could be a family with a child with leukemia, and the child dies after a lot of treatments, and there is the added burden of the medical costs."
The Canada Health Act allows Ottawa to cut federal transfer payments to any province allowing user fees.
Marleau withheld $750,000 in transfer payments to British Columbia in April 1994. She earned better co-operation with the provincial government and a commitment to one-tier health care.
She wrestled with Alberta's premier Ralph Klein when he argued provincial support for private clinics was not in violation of the Health Act. Klein backed down, but by 1999, Alberta got the OK to allow doctors to bill for services not covered by medicare.
Marleau was unfairly criticized when the federal government reduced taxes on tobacco in 1994 to cut down on smuggling, a policy she opposed.
She called for a ban on tobacco advertising and generic packaging. Opposed by the tobacco industry, these measures were eventually adopted. In 2000, it was revealed Marleau was targeted by the tobacco industry to discredit her in the mid-1990s.
Marleau established a section of the health department specifically devoted to women, and she drew attention to Indigenous health issues.
She dodged the slings and arrows aimed at all politicians, but when reviewing media coverage during her time as health minister, one cannot help but think she took more than her share of criticism because she was a woman in a powerful job at a time when that made some men uncomfortable.
The Globe's Greenspon wrote about an encounter Marleau had with an off-duty journalist in an Ottawa bar. She complained she was being treated badly because she was viewed as just "a dumb broad from Kirkland Lake."
The Montreal Gazette wrote this in November 1993, "Diane Marleau wears large glasses, speaks in a rather high voice that often breaks into a laugh or even giggles, and she has led a life in the boondocks where she was heavily involved in local community life."
Getting a response from Marleau about health care reform was like talking to a "two- by-four,'' said Dr. Grant Hill, a Reform MP from Alberta in the House of Commons in 1995. He then mimicked her high-pitched voice.
Hill apologized, but told reporters, "I don't think she's (Marleau) listening. I think it's like a vacant, empty drum. There's no listening. It's a one-way street."
"I happen to have a woman's voice, I don't know if it's that high, but that's who I am," Marleau responded to the jibe.
Liberal MP Paddy Torsney said Hill's comments were part of the anti-woman attitude of some Reform MPs.
"They insult us. They make stupid comments about being female."
After leaving the health portfolio, Marleau held cabinet posts as minister of Public Works and Government Services, minister for International Co-operation, and minister responsible for La Francophonie.
Marleau fell out of favour with Chrétien and was dropped from cabinet in 1999. She called for him to retire and supported Paul Martin for leader of the Liberal Party. She was also critical when her government began to compromise on extra billing for health services.
The press called her a rebel and a maverick.
"I don't think most people realize how confining it is to be in cabinet, and how alone you are in cabinet all the time," she told the media in March 2000.
"And how, when you don't like things, you're not free to say so. You can talk at the cabinet level, but that's where it has to stay. It feels good for me now to be able to speak out on medicare, to tell people, `Listen, people need to be heard.' The powerful and the influential are always heard. But what about the rest of the people. That is why we are elected."
When Martin became Canada's 21st prime minister in 2003, Marleau may have expected a cabinet post to repay her loyalty. None was offered but it is rumoured she turned down a senate seat or a political appointment.
She preferred to continue to represent Sudbury in the House of Commons as an "ordinary MP."
Marleau spent her last years in Parliament as a member of the opposition sitting across from Stephen Harper's Conservative government. In her last term, Marleau was chair of the standing committee on government operations and estimates, and chair of the Liberal Women's Caucus.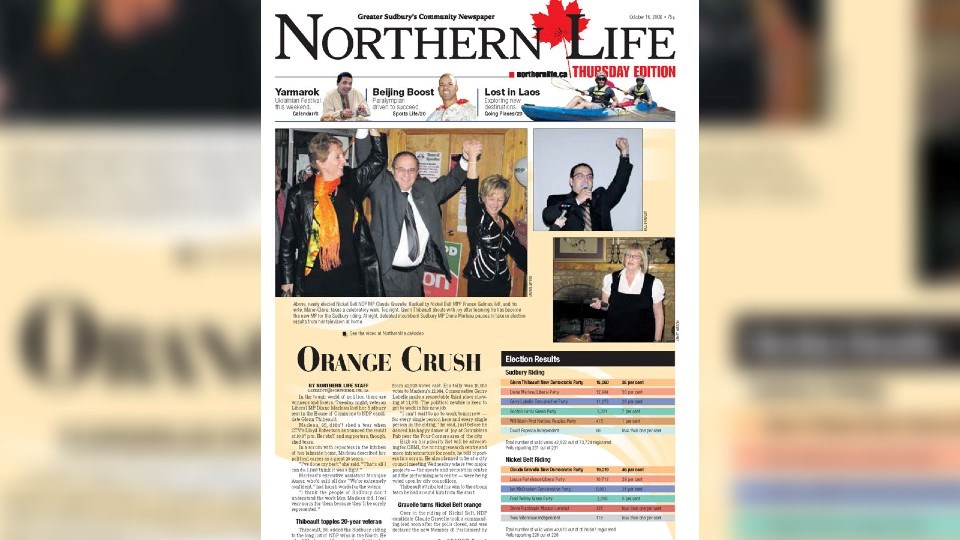 The MP did not seek constant local press coverage like some politicians who continue to campaign after the election. During the 2008 election, she was forced to defend her record by constituents who had grown critical of her performance.
Her record included securing federal support for the northern medical school, NORCAT and Science North, and the renovations of the federal office building downtown. She worked to strengthen FedNor and increase regional development funding.
She supported legislation allowing same-sex marriages, and in 2003 introduced the Older Adult Justice Act calling for the establishment of an ombudsman to protect the rights of seniors.
Former city councillor Lynne Reynolds and current councillor Fern Cormier worked for Marleau during her years in Ottawa and benefitted from her political mentorship.
When Marleau died in 2013 from colorectal cancer at the age of 69, Martin remembered, "You could be in caucus or in the cabinet room, and you never forgot Diane Marleau was from Sudbury."
Nickel Belt NDP MPP France Gelinas said Marleau was an inspiration to her and other Franco-Ontarian women entering politics.
Marleau's obituary read, "She most wanted to be remembered for fighting the good fight, serving the people of Sudbury well, and for loving her friends and family."
Turns out she was an extraordinary Canadian with a real life in "the boondocks."
Vicki Gilhula is a freelance writer and former editor of Northern Life.
Sources
The Globe and Mail, Aug. 27, 1994, Edward

Greenspon

, Health minister bird on a wire: those who know Diane

Marleau

describe her as ambitious and dogged and dedicated and passionate and just perhaps in over her head
Canadian Press, Sept, 22, 1995, Tom Hansom, MP:

Marleau

empty drum
The Toronto Star, Dec. 9, 1993, Rosemary

Speirs

, A defender of medicare 'ordinary' Diane

Marleau

has an extraordinary task
The

Sudbury

Star, March 17, 2000, Manner of firing 'mean:'

Marleau

CBC News, June 30, 2013, Former

Sudbury

Liberal MP Diane

Marleau

dies
The

Sudbury

Star, Jan. 31, 2013, Carol Mulligan, Former PM mourns

Marleau