Cosmic Dave's Guitar Shop
---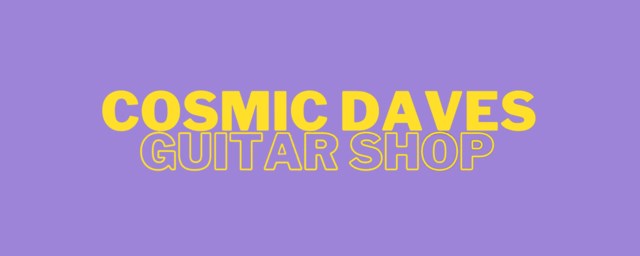 Why we're here . . .
Cosmic Daves Guitar Emporium opened on Elgin Street in 2008 in the old landmark 'Boomer's Diner' location overlooking the tracks and
pedestrian bridge to downtown. Retaining the diner motif and rustic
charm, the store became Northern Ontario's hidden gem for finding
vintage guitars and amps- and expert repair work.

In the vein of now gone but not forgotten vintage stores like Songbird (Toronto & Ottawa), Capsule Music (Toronto), Not Just Another Guitar Shop (Vancouver), Cosmic Dave's always tried to cater to professional and novice players alike- giving a personable alternative to major chain stores now taking over the retail music business.

With the move to 587 ½ Kathleen Street in the Donovan, Cosmic Dave's swapped 'Emporium' for 'Shop' and gave itself a makeover. Nestled next door to Beards Bakery, the modern, minimalist, and well curated new shop features the best in boutique, hard-to-find crafted brands along with quality vintage gear. Remaining is the personal touch- and expert honest repair department. We'll give you the straight goods- no sales pitch.

So whether you're up for a browse between snacks at Tuco's Taco Lounge and Beards Bakery- mixing it up after perusing vinyl at our sister
store, Cosmic Dave's Vinyl Emporium, or looking for that lifelong guitar you've always dreamed of, Cosmic Dave's will deliver.
---
Our People