Starting tomorrow, April 7, Sudbury district residents aged 60 and older can begin booking appointments to get their COVID-19 vaccines. This change applies only to those public health jurisdictions that have signed on with the provincial booking system.
This changed in Sudbury on the weekend. Before that Public Health Sudbury & Districts (PHSD) was on its own in-house booking system. Sudbury and Manitoulin district residents can now use the provincewide booking system, which can be found here.
Other Northern Ontario health units aren't there yet. Using their own booking systems, Algoma Public Health (Sault Ste. Marie, Wawa, Elliot Lake) is booking for 70 and up, while Porcupine Health Unit (Timmins, Cochrane, Kapuskasing) is booking appointments for those 65 and older.** This will change sometime later in April, but there is no word on when.
Also, Sudbury district residents, and those in most of Northern Ontario, aged 55 and older can now book appointments at selected pharmacies to receive the AstraZeneca vaccine. This change came into effect on April 1.
This is for the AstraZeneca vaccine only, and not the Pfizer BioNTech or Moderna vaccines. The Ontario website will allow residents to book an appointment at a pharmacy near their home.
The 60+ age change was outlined in a Ministry of Health technical briefing held Tuesday, which reported that Ontario's vaccine rollout plan is now in Phase 2 with the province intending to vaccinate all adults aged 60 and older between now and the end of June.
After that, beginning in July, the plan is to provide vaccines to Ontario adults aged 59 and younger.
Officials who provided the technical briefing said the vaccines will be distributed through mass vaccination clinics, through pharmacies, through primary care and mobile teams.
High-level provincial officials took part in the briefing, but while their information is new, the rules of the briefing said the officials are not to be identified.
It was reported that Ontario has received significant new supplies of the three major vaccines, the Pfizer BioNtech, the Moderna and the AstraZeneca, a vaccine that is being investigated by Health Canada because of a relatively small number of blood clots reported among some vaccine recipients in Europe.
The briefing was told that despite the increase in the vaccine supply, there is still a big demand for vaccinations in Ontario.
"While it sounds like we have a lot of vaccine, we have a lot of population to provide vaccines to," said one provincial official at the briefing.
He added the public health units in Ontario are still moving through the vaccine supply as quickly as possible, but the demand has continued.
"So that leads to the need for a sequencing, a plan and an approach," said the provincial official.
He said the objective of the Ontario vaccine rollout continues to be based on three functions: preventing death; preventing illness and hospitalization, and; preventing the spread of the virus.
"As we move from Phase 1 into Phase 2, we continue to focus on two key approaches. One is age, and one is at risk. And age is identified and recognized as being the most significant predictor of individual illness and death," he said.
Being at risk can include your individual health conditions, your environment and the area where you live, such as community hotspots.
The briefing also outlined that thousands of Ontario residents will receive vaccines based on individual health conditions, which were outlined. For example, people who are organ donor recipients would be close to the top of the list, as would many cancer patients.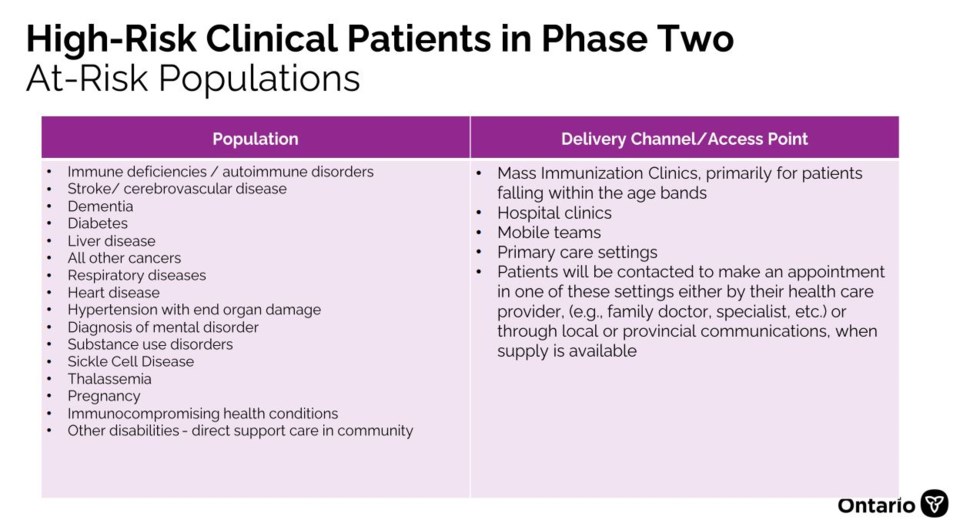 The briefing also published a list of Ontario postal code areas, encompassing more than two million residents, that were identified as Ontario's hot spot communities at the moment. All of the regions are in and around the Greater Toronto Area, as well as Hamilton, Ottawa, Waterloo, Guelph and Windsor. None of the postal codes identified any areas in Northern Ontario.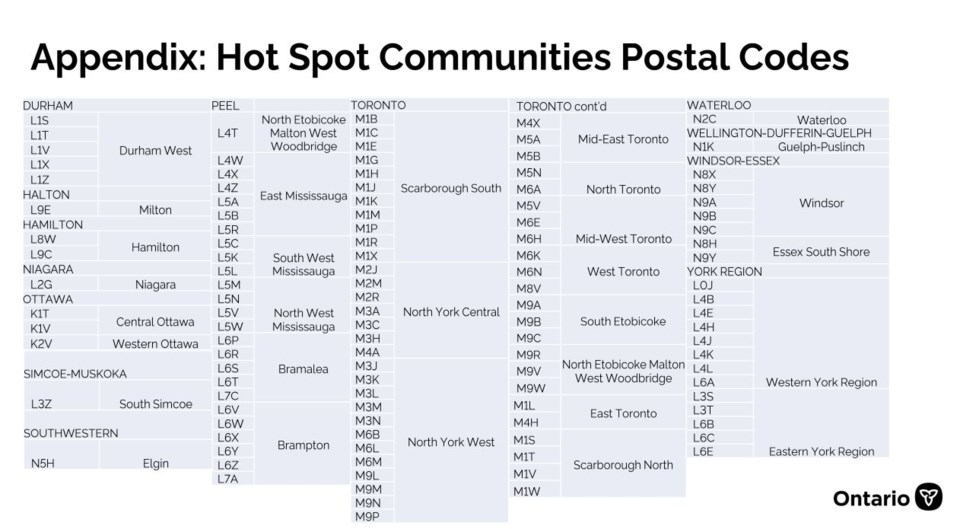 The briefing was also advised that Ontario is expecting increased vaccine deliveries during April, enabling public health units to deliver 100,000 doses a day, which does not include the pharmacy distribution system.
Another high level ministry official said the capacity is there to have Ontario administer more than four million doses in the month of April, which she said is less than the number of doses Ontario is expecting to receive.
**An earlier version of this story included incorrect information about Porcupine Health Unit's booking ages. That has been corrected.
Len Gillis is a Local Journalism Initiative reporter at Sudbury.com, covering health care in Northern Ontario. The Local Journalism Initiative is funded by the federal government.