In the lead up to Sept. 17, the excitement from my daughter was palpable. It was her time to shine, her time to get out there and raise money for cancer research for the annual Terry Fox Run. Of course, the potential of hitting a fundraising goal and having the opportunity to pie a teacher in the face is also a great reward.
Fox would have been 65 years old this year. He was born on July 28, 1958, in Winnipeg, Man., to parents Rolland and Betty. Fox had an elder brother, Fred, a younger brother, Darrell, and a younger sister, Judith. His family moved to British Columbia in 1966.
Fox's mother Betty was especially protective of her children and it was through her that he developed his stubborn dedication to whatever task he committed himself to do. His father recalled that Fox was extremely competitive, noting that he hated to lose so much that he would persevere at any activity until he succeeded.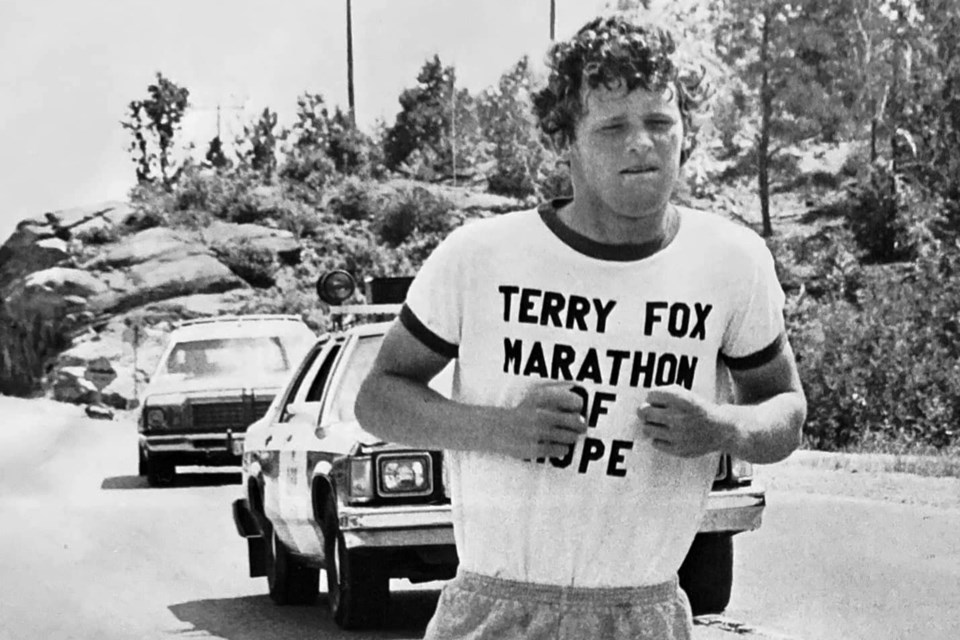 Fox attempted to join his school's basketball team, however he struggled due to his height. His coach suggested that he try cross-country running, which Fox did as he wanted to impress his coach. He continued to improve on his basketball skills, and in Grade 12 he won his high school's athlete of the year award.
On Nov. 12, 1976, Fox was driving home when he was distracted by nearby bridge construction and crashed into the back of a pickup truck. He injured his right knee in the crash with the pain continuing until the end of basketball season.
By March 1977, it had intensified to the point that a hospital visit was necessary. It was then that he was diagnosed with bone cancer. He was told that his leg had to be amputated, he would require chemotherapy, and that due to recent medical advances, he would have a 50-per-cent chance of survival.
Fox learned that two years before, the figure would have been only 15 per cent. This dramatic improvement in survival rates impressed on him the value of cancer research.
Fox was walking within three weeks of the amputation with the help of an artificial leg. His doctors were impressed with his positive outlook, which contributed greatly to his rapid recovery. He endured 16 months of chemotherapy. Fox found the time spent in the British Columbia Cancer Control Agency facility difficult as he watched fellow cancer patients suffer and die from the disease.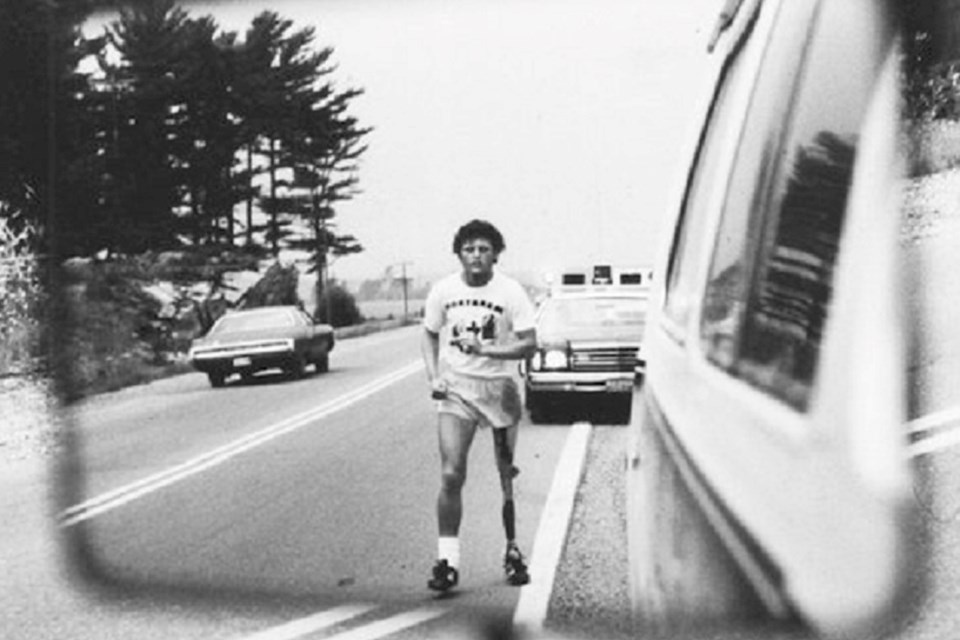 The night before his surgery, Fox had been given an article about the very first amputee to compete in the New York City Marathon, Dick Traum. And, with that he was inspired to embark on a 14-month training program, with a view to competing in a marathon himself.
In the summer of 1977, Canada's future "Man in Motion", Rick Hansen, working with the Canadian Wheelchair Sports Association, invited Fox to try out for his wheelchair basketball team. Although he was undergoing chemotherapy treatment at the time, Fox's energy impressed Hansen. Less than two months after learning how to play the sport, Fox was named a member of the team with which he went on to win three national titles.
Privately, however, he was hatching a much more elaborate plan. His experiences in the hospital had made Fox angry at how little money was dedicated to cancer research. Therefore, he intended to run the length of Canada in the hopes of increasing awareness for cancer research.
He initially hoped to raise $1 million, then $10 million, but later sought to raise $1 for each of Canada's 24 million citizens (at that time).
Fox ran with an unorthodox stride, as he was required to hop-step on his good leg due to the extra time the springs in his artificial leg required to reset after each step. He found the training painful as the additional pressure he had to place on both his good leg and his stump led to bone bruises, blisters and intense pain.
Fox found that after about 20 minutes of running, he crossed a pain threshold that made the run easier.
On Oct. 15, 1979, Fox sent a letter to the Canadian Cancer Society, in which he announced his goal and appealed for funding. He stated that he would "conquer" his disability, and promised to complete his run, even if he had to "crawl every last mile". Explaining why he wanted to raise money for research, Fox described his personal experience of cancer treatment.
"I soon realized that that would only be half my quest, for as I went through the 16 months of the physically and emotionally draining ordeal of chemotherapy, I was rudely awakened by the feelings that surrounded and coursed through the cancer clinic," Fox said.
"There were faces with the brave smiles, and the ones who had given up smiling. There were feelings of hopeful denial, and the feelings of despair. My quest would not be a selfish one. I could not leave knowing these faces and feelings would still exist, even though I would be set free from mine.
"Somewhere the hurting must stop … and I was determined to take myself to the limit for this cause."
The Cancer Society was skeptical, but agreed to support Fox once he had acquired sponsors with the added expectation that he get a medical certificate from a heart specialist stating that he was fit to attempt the run. Doctors endorsed his participation when he promised that he would stop immediately if he began to experience any heart problems.
After the Ford Motor Company donated a camper van, Imperial Oil contributed fuel, and Adidas his running shoes, Fox was off to the races.
The Marathon of Hope began on April 12, 1980, when Fox dipped his right leg in the Atlantic Ocean near St.John's, Nfld., and filled two large bottles with ocean water. He intended to keep one as a souvenir and pour the other into the Pacific Ocean upon completing his journey in Victoria, B.C.
Fox was initially disappointed with the reception he received, but was heartened upon arriving in Channel-Port aux Basques, Nfld., where the town's 10,000 residents presented him with a donation of more than $10,000.
Fox arrived in Montreal on June 22, one-third of the way through his 8,000-kilometre journey, having collected more than $200,000 in donations. Fox's run caught the attention of the founder and CEO of Four Seasons Hotels, Isadore Sharp (remember that name for later), who lost a son to melanoma in 1978, just a year after Fox's diagnosis.
Sharp gave food and accommodation at his hotels to Fox's team. When Fox was discouraged since so few people were making donations, Sharp pledged $2 a mile and persuaded close to 1,000 other corporations to do the same.
Fox crossed into Ontario on the last Saturday in June, and he was met by thousands of people who lined the streets to cheer him on, while the Ontario Provincial Police gave him an escort throughout the province. Despite the sweltering heat of summer, he continued to run 42 km per day.
On his arrival in Ottawa, Fox met Governor General Ed Schreyer and Prime Minister Pierre Trudeau prior to performing the ceremonial kickoff at an Ottawa Rough Riders game where he was given a standing ovation by the 16,000 in attendance.
On July 11, Fox arrived in Toronto where a crowd of 10,000 people was in attendance to honour him. As he ran to Nathan Phillips Square, he was joined by Toronto Maple Leafs star Darryl Sittler, who presented Fox with his 1980 All-Star Game jersey.
The Canadian Cancer Society estimated it collected $100,000 in donations that day alone. As he continued through southern Ontario, he was met by hockey star Bobby Orr, who presented him with a cheque for $25,000. Fox considered meeting Orr the highlight of his journey.
At this point, the physical demands of running a marathon every day were beginning to take their toll on Fox's body. Apart from a few rest days in Montreal at the request of the Cancer Society, he refused to take a day off, even on his 22nd birthday.
By Aug. 3, 1980, Fox found himself 42 kilometres south of Sudbury (Day 114). An OPP officer named Mike Sullivan, who had been accompanying Fox for the last two days, sat down with him to eat breakfast on that second morning.
Many years later, he remembered their time together and their conversation like it was yesterday.
"I couldn't believe what he ate. He had a milkshake, pancakes, it just kept coming to the table. We sat there shooting the breeze for a while, and then I said, 'I've got to ask: When you're running, what do you think about?' He said, 'I only think about the next mile.' That focus and determination still amazes me."
"Today was alright. The morning 12 miles were good. Cool and no wind. The next 14 were hard with wind, humidity and heat … 20 miles away from Sudbury." (Entry from Fox's road diary)
The following day, Aug. 4, 1980, Fox reached the halfway point of his journey, 4,430 km, and the City of Sudbury.
Although for the next 650 kilometres, the people living along the route would call their own homes the halfway point. It was also discovered at this point that the van odometer had a four-per-cent error, and Fox had actually run an additional 105 kilometres.
As Fox himself wrote in his diary, "I found out we had passed the halfway point already and that there is something wrong with the van. Very slight, but it adds up."
This meant that he missed recognizing the halfway point of his run, a huge moment for which he had been looking forward to for days.
On Fox's arrival at Civic Square in Sudbury, hundreds of area residents had gathered to welcome him. Regional Chairman George Lund and Acting Mayor Maurice Lamoureux welcomed Fox and congratulated him on his outstanding fundraising effort up to that point.
Also on hand to welcome Fox was Morry Brown, director of public affairs with Inco, who presented him with a gift on behalf of the Ontario Division, a miniature copper-nickel beaver mounted on a polished ore base. Inco also donated $5,000 to the Canadian Cancer Society.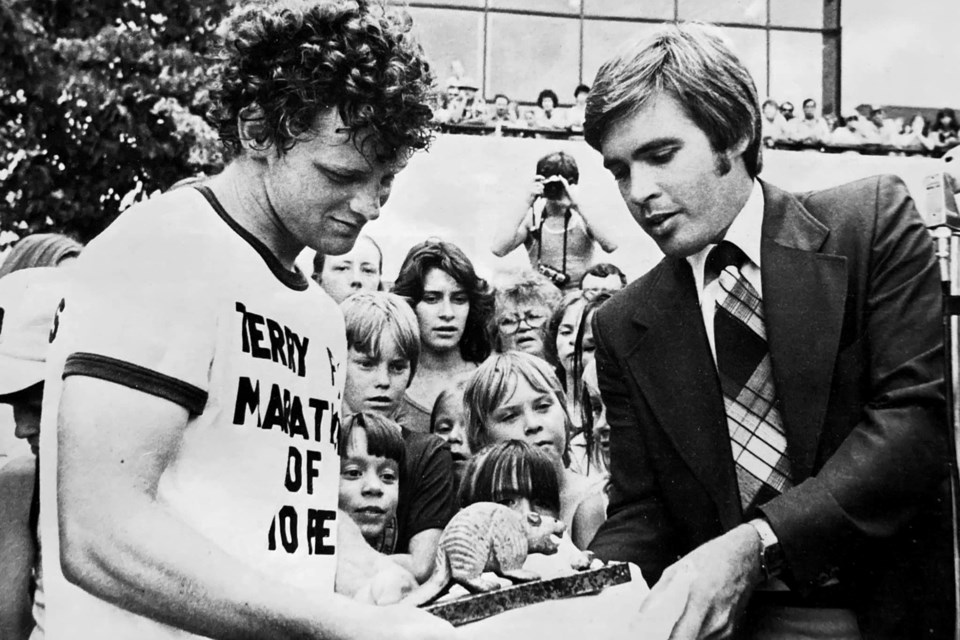 After thanking his hosts, Fox explained the run had been painful both physically and mentally up to that point, but he wasn't ready to quit.
As Fox was quoted as saying at the time, "If you read in the papers that Terry Fox is tired, he's down and out, don't dare believe it. I'm not going to quit." He continued, "The most important part is not that I can run across Canada on one leg, but that cancer can be beaten… ."
After this gathering in downtown Sudbury, Fox continued his journey westward, stopping at the Tradewinds Motel for the night before departing early the next morning. Fox's favourite time to run was very early in the morning, and he was found already on his way towards Espanola at 5 a.m.
"Today I did 10, 6 and 5 miles. It was hot, humid and tiring. Stayed at the Trade Winds." (Entry from Fox's road diary)
By late August, Fox would find himself exhausted before he even began the day's run. On Sept. 1, outside of Thunder Bay, he was forced to stop briefly after an intense coughing fit and chest pains. He resumed running as the crowds along the highway shouted their encouragement. However, a few miles later, short of breath and with continued chest pain, he asked to be driven to a hospital.
The next day, Fox held a tearful press conference during which he announced that his cancer had returned and spread to his lungs. He was forced to end his run after 143 days and 5,373 kilometres. Fox refused offers to complete the run in his stead, stating that he wanted to complete his marathon himself.
Over the following months, Fox received multiple treatments, but the disease continued to spread. He was readmitted to hospital on June 19, 1981, with chest congestion and developed pneumonia. He fell into a coma and died in the early hours of June 28, 1981.
The Government of Canada ordered flags across the country lowered to half mast, which was an unprecedented honour (at that time) as it was usually reserved for politicians.
Addressing the House of Commons, Pierre Elliot Trudeau said, "It occurs very rarely in the life of a nation that the courageous spirit of one person unites all people in the celebration of his life and in the mourning of his death ... We do not think of him as one who was defeated by misfortune, but as one who inspired us with the example of the triumph of the human spirit over adversity."
During Fox's original marathon, Isadore Sharp (remember him from earlier?) proposed an annual fundraising run in Fox's name. Fox agreed, but insisted that the runs be non-competitive and allow anyone to participate. Sharp and the Fox family organized the first Terry Fox Run on Sept. 13, 1981. More than 300,000 people took part and raised $3.5 million.
In 1982, schools across Canada were urged to join the second run, and their participation has continued ever since. The runs, which raised more than $20 million during the first six years, grew into an international event.
By the run's 25th anniversary, more than three million people were taking part annually. Over the years, grants from the Terry Fox Foundation have funded numerous advances in cancer research made by Canadian scientists. The Terry Fox Run remains the world's largest one-day fundraiser for cancer research, and more than $850 million has been raised as of 2022.
In that very short time at the beginning of the 1980's, Fox captured the hearts of thousands, but he didn't want people to miss the point he was making by running across Canada. As he stated when he was here in Sudbury, "cancer can be beaten." And with the funds raised over the preceding 42 years, we continue to inch closer to that day.
A few days after the 2023 Terry Fox Run, my daughter returned from school, grinning ear to ear, wearing her new pride and joy, a brand new, bright white Terry Fox t-shirt (which she won for fundraising) to accompany her own memories for the future of participating in her very own (albeit, much shorter) Marathon of Hope.
Now dear readers, it's your turn to share with us your memories. Were you among one of the many crowds who greeted Fox along his travels? Or, maybe, you were inspired, by Fox's persistence along his powerful journey, to participate in your own personal Marathon of Hope. Share your memories in the comments or email them to [email protected] or [email protected].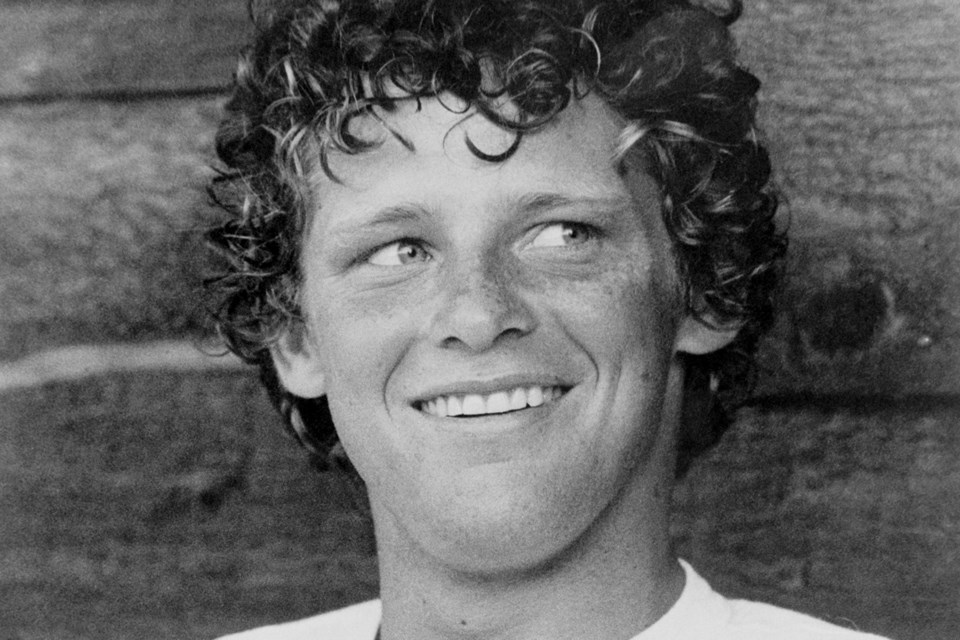 Jason Marcon is a writer and history enthusiast in Greater Sudbury. He runs the Coniston Historical Group and the Sudbury Then and Now Facebook page. Memory Lane is made possible by our Community Leaders Program.