Le texte français suit l'anglais
---
Since 1971, Sudbury Counselling Centre (SCC) has been supporting people to deal more effectively with a wide range of personal, relationship and/or social problems using professional and confidential counselling expertise. Each year, SCC's community programs assist over 1,700 individuals and families facing a variety of challenges.
Services are accessible to all and offered in a fully bilingual (English and French) environment. Through effective counselling and support services, the SCC aims to build a healthier community.
The gift of counselling
To promote mental health and offer support to anyone, SCC is launching a fundraiser for the month of November and December. With the help of community friends and local businesses Core Vitality and Sprout HandMade, The Gift of Counselling is a way to support friends, family and co-workers needing emotional support while also giving back. With the purchase of a $140 gift certificate, SCC supporters will receive a lovely promotional wellness box*, which includes a variety of items to help make someone's day just a little brighter!
Each curated box contains many self-care products and items such as locally made hand soap, cards to help support mental wellness, sunglasses, natural tea, a journal and more!
To celebrate the SCC's 50th anniversary, $50 from each gift certificate sold will be donated to the organization's Compassion Funds, which supports individuals by offering low-cost, low-barrier professional counselling services.
*Only 350 gift certificates and boxes available.
SCC services
SCC supports individuals, families and children. Programs include:
General counselling services;
Employee Assistance Program (EAP);
Partner Assault Response (PAR);
Violence Against Women (VAW);
Male survivors of sexual abuse;
Group treatment program for children;
Child witness programs; and
Back on track program.
To view details on all programs, visit the program page on the SCC website.
To purchase a Gift of Counselling gift certificate, please call the SCC at 705-524-9629 or visit the Centre located at 260 Cedar Street in Sudbury.
Due to COVID-19, the SCC continues to offer confidential secure video and telephone counselling.
---
Offrir le cadeau du counselling, contribuer à bâtir une communauté plus saine
Le Centre de counselling de Sudbury propose des chèques-cadeaux pour recueillir des fonds et éliminer les obstacles qu'affrontent les personnes dans le besoin de soutien affectif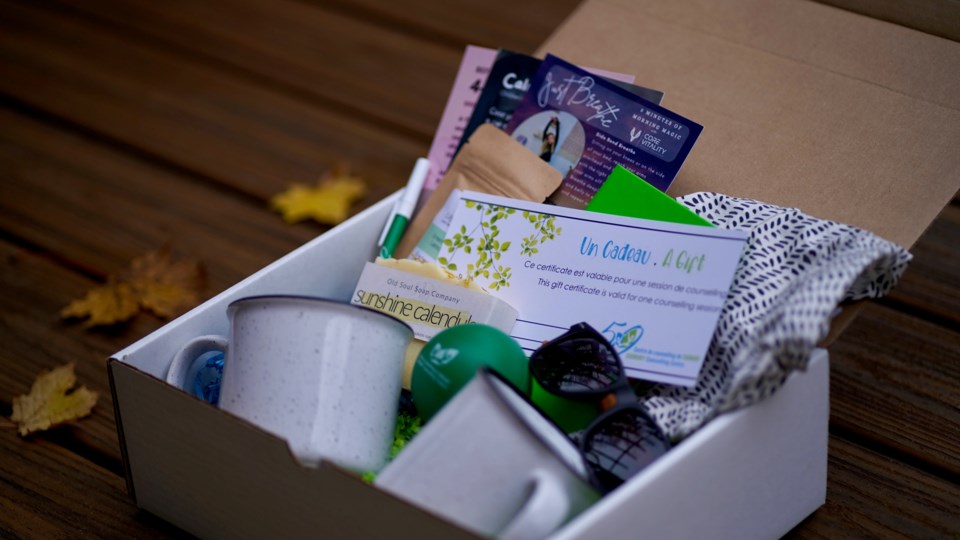 Depuis 1971, le Centre de counselling de Sudbury (CCS) aide les individus à surmonter une multitude de défis personnels et de difficultés relationnelles et sociales en leur proposant des services de counselling professionnels et confidentiels. Chaque année, les programmes communautaires du CCS viennent en aide à plus de 1 700 individus et familles qui font face à divers défis.
En offrant des services de soutien et de counselling efficaces et accessibles dans un environnement entièrement bilingue (français et anglais), le CCS cherche à bâtir une communauté plus saine.
Le cadeau du counselling
Pendant les mois de novembre et de décembre, le CCS organise une collecte de fonds visant la promotion de la santé mentale et la fourniture de services à tous. Grâce aux contributions de Core Vitality, partenaire communautaire du CCS, et du commerce local Sprout HandMade, Le cadeau du counselling vous permet de soutenir vos amis, votre famille ou vos collègues dans le besoin de soutien affectif, tout en redonnant à la communauté. Quand vous achetez un chèque-cadeau à 140 $, vous recevrez également une boîte de bien-être* avec divers produits qui plairont à coup sûr la personne à qui vous l'offrez.
Chaque boîte préparée spécialement contient plusieurs produits de soins personnels tels que du savon fabriqué par des artisans locaux, des cartes qui favorisent le bien-être mental, des lunettes de soleil, du thé naturel, un journal personnel et plus encore!
Pour célébrer les 50 ans du CCS, 50 $ de la vente de chaque chèque-cadeau seront versés aux Compassion Funds de l'organisme. Ces fonds contribuent à soutenir les individus en leur proposant des services de counselling professionnel à faible coût et avec un minimum d'obstacles.
*Limite de 350 chèques-cadeaux et boîtes à vendre.
Services du CCS
Le CCS soutient les individus, les familles et les enfants. Les programmes qu'il propose comprennent les suivants :
services de counselling général;
programme d'aide aux employés;
programme d'intervention auprès des partenaires violents;
programme d'intervention contre la violence faite aux femmes;
programme pour hommes victimes de violen

ce sexuelle;

programme de traitement en groupe pour enfants;

programme d'aide aux enfants témoins;

programme de bonne conduite.
Visitez la page des programmes sur le site Web du CCS pour vous renseigner davantage à cet égard.
Vous pouvez acheter un chèque-cadeau du CCS par téléphone en composant le 705-524-9629 ou en personne au Centre situé à 260 rue Cedar à Sudbury.
En raison de la COVID-19, le CCS continue d'offrir des services de counselling confidentiels et sécurisés par vidéo et par téléphone.