Once you drive a Subaru, you will want to buy one and do whatever it takes to keep it in top condition.
The first step is making sure you adhere to the maintenance schedule. "It's important to follow the regular maintenance schedule to ensure your Subaru runs smoothly for years to come," says Jordan Tall, Service Manager at Palladino Subaru. "Adhering to the Subaru Maintenance Guide will also prolong the life of your vehicle."
That means you should bring your car in for servicing every 6 months or 10,000 km, whichever comes first.
Adhering to the maintenance schedule has another perk: it can help to maximize the trade-in value of your vehicle. In addition to performing routine maintenance, it can be a good idea to keep records of when it was done, including keeping the receipts.
Not adhering to the regular maintenance schedule comes with risks. For example, the manufacturer may deny any warranty claims.
"The Subaru Maintenance Guide is recommended for the entire Subaru brand, including regular rotation of tires and having full-sized spares," says Tall. You can also find the brand's detailed Maintenance Schedule online.
Your tires are critically important too.
Subaru Palladino offers a variety of tire packages to meet their customers' needs. These include tire mount and balance, installation, alignments and storage. They also offer very competitive pricing for Winter tires, Summer tires or all-season tires.
"From Subaru rims to various off-make brand rims, we have options available to customize your vehicle," says Tall. "Even if you don't own a Subaru, we can help! We service all makes and models."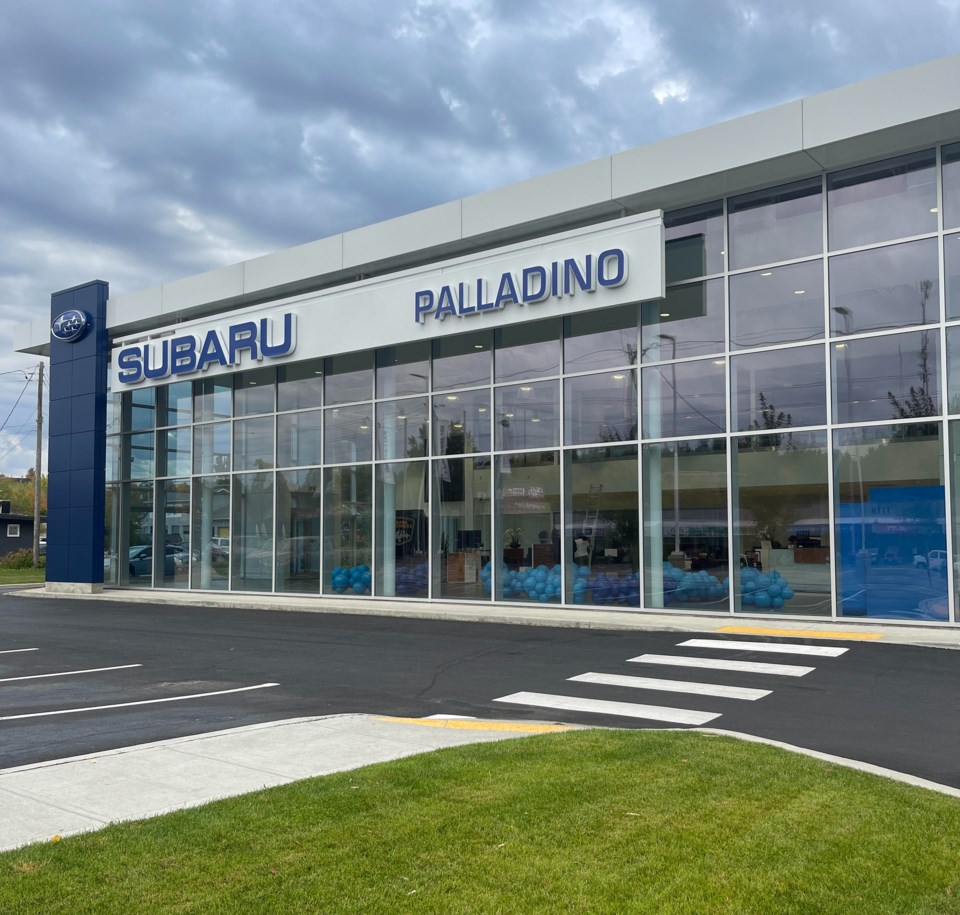 The Subaru difference
Drivers are often curious about any difference in service they may receive from a Subaru dealership versus a general auto repair shop. When you bring your vehicle into Palladino Subaru, their Subaru-trained technicians offer several perks. They provide customers with a personalized video made by the technician that guides them through their vehicle's condition and finish their appointment with an Italian Aquarama car wash.
"When you arrive for your appointment, drive-in to our heated and air-conditioned service breezeway where you are greeted with a warm welcome by our service team," says Tall. "While your vehicle is being serviced, you have the option to use our shuttle, which services the Greater Sudbury area, valet your vehicle or visit with us. Should you wish to stay at our dealership while your vehicle is being serviced, you can choose between one of our two lounge areas with comfortable seating, TV, Wi-Fi and an assortment of beverages. Plus, we're pet-friendly and love when your furry friends come along."
Palladino Subaru is located at 1115 Kingsway, in a state-of-the-art dealership that offers customers a premium experience, whether you are in for a service appointment, shopping for a new or certified pre-owned vehicle, purchasing parts or Subaru Gear, or for a free no-hassle vehicle appraisal. Schedule a service appointment with ease on their website www.palladinosubaru.ca, by emailing [email protected] or calling 705-419-2285.
Follow Palladino Subaru on Instagram @palladinosubaru for the latest information and specials.