Whether you have lived here all your life, are new to the area, or have a habit of simply working downtown then going home, it's time to take a closer look at the vibrant outdoor life Sudbury has to offer in the downtown core this summer.
Art installations. Dining. Boutique shopping. Live music. Bars and pubs.
Whomever you are and however you like to spend your free time, there is something for you. For shop owners, restaurant owners, and artists, the Business Improvement Area (BIA) makes it easy to get involved, get engaged and attract customers.
Are you ready to rediscover downtown Sudbury as a local or business owner? Let's dive in and take a look at what's going on. It all starts with Live + Outside.
Kyle Marcus, Managing Director, Downtown Sudbury BIA, explains, "Live + Outside is our umbrella program for our outdoor activations. It started with our patio program that began pre-COVID but was utilized as a hospitality lifeline throughout the pandemic and has evolved into so much more. During the first summer of the pandemic, we worked with our members to produce about three patios (2020). That grew to 14 last year. Now we are happy to have nearly 20. This means you can enjoy being outside and window shopping with your favourite retailers while supporting local bars and restaurants at the same time. There is, however, a clear benefit for business owners too. In this program the BIA offers a 75% rebate on expenses for heating, lighting, furniture construction, or approved rentals up to $7,500."
It started with patios but Live + Outside goes even further. With 450 business and 90 property owners represented by the BIA, there was a driving need to do more for the local shop owners, makers and artists as well – all while continuing to engage the locals.
Marcus elaborates, "In order to give our local population plenty of time to explore the shops and services downtown and still be able to dine and enjoy a drink, our patio hours are extended and there is a Friday night happy hour. Happy hour extends to the entirety of the downtown core with many businesses showcasing special promotions every Friday between 4 pm-7 pm. You don't even have to be in an establishment to have something good happen when you are downtown this summer! Hot 93.5 and Rewind 103.9, are there on Friday evenings (and some market Saturdays!) handing out 'downtown dollars.' You could be handed $10 - $200 just for being downtown and being you!"
For the artists that present and the people that enjoy art, there is plenty to love about downtown Sudbury this summer.
There is a concert every Friday until the end of August with new bands, old bands, familiar favorites and some newcomers on the edge of stardom. The season opening band, Tommy and the Commies, played the BIA stage then took off to play and tour in Spain.
Saturdays, the Get Cultured Downtown program collaborates with YES Theatre for small live productions.
On Sunday from 11 am -1 pm drop by to see what is going on. It could be yoga, Bhangra dancing, cycling/spinning or another surprise. As summer progresses, the BIA hopes to work with the city and community partners to allow you the opportunity to stroll through the downtown core and take in Laurentian University McEwen School of Architectures' space activation installations driven by lifestyle.
This includes but is not limited to, as described by Marcus, "Benches at a bus stop. More seating where there wasn't any before. Maybe something that simply looks pretty and catches the eye or engages the senses. This is a work in progress but some ideas coming to light are chess and checkers boards that can be played live and interactively."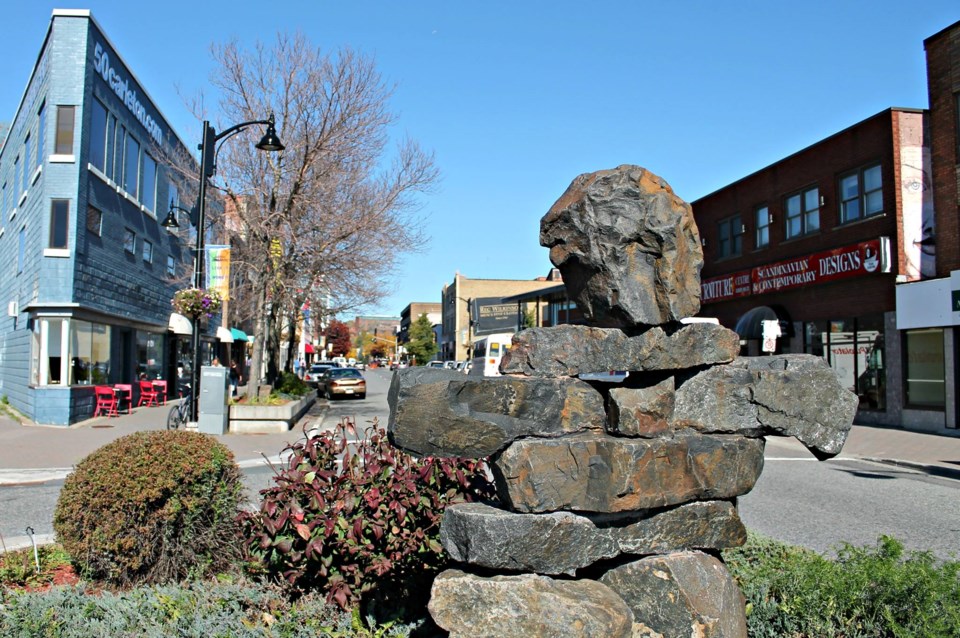 This is just the start of what you can experience downtown this summer. Whether you are a business looking to draw in customers or a resident looking to explore your world close to home, Live + Outside has something for you.
Stay tuned for Part II where we go even further into how Live + Outside is changing the face of downtown Sudbury.