Sudbury Performance Group is thanking their frontline workers and first responders by hosting a festival in their honour that promises to be a weekend of free live music and comedy that Sudbury has not yet experienced!
Taking place on St. Patrick's Day weekend, 'Salute to Frontline Workers' is a free event suited for all ages.
It will be a weekend of free music, live stand up comedy, and dance, and will include several events that can be enjoyed by the whole family.
"It's our way of saying thank you to all the amazing frontline workers that really stepped up throughout the pandemic, and they put themselves in the line of fire on a daily basis to make sure everybody was cared for and supported during that time," said Mark Mannisto, president of Sudbury Performance Group (SPG).
Mannisto said their board members, and in particular, Ron Goswell, has been working tirelessly for months to make this event happen, and after receiving some funding from Heritage Canada, SPG was able to make their vision of hosting this festival, a reality.
"These events will take place in venues across the city, and will be accessible to everyone in our community, at no charge whatsoever," he said. "Ron and his team have put together a once-in-a-lifetime program and event in Sudbury, and it doesn't matter if you're in the downtown core, if you're out in new Sudbury or any community in Sudbury, we've got events happening."
Some highlights of the festival include performances by Canadian host and comedian Mike Bullard, who is also a retired OPP officer, as well as retired police officer and comedian, Rick Lemieux, who will be performing stand up along with Bullard. They will also be sharing the stage with Sudbury's hottest band, Twenty One, on Friday night, and with Lynyrd Skynyrd tribute band, Saturday Night Special, on Saturday evening.
There will be a Francophone event with local artist Pandora Topp, who'll be performing Café Piaf, a tribute to Edith Piaf at the Ukrainian National Federation Hall. Other venues include The Trevi Bar & Grill, College Boreal, The Hilton Garden Inn, and Fionn MacCool's.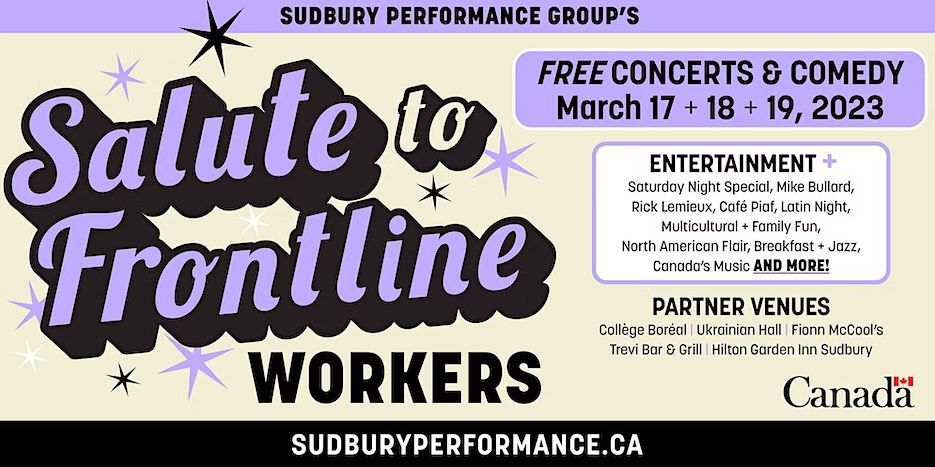 Princess Elsa from Frozen is going to be performing for the kids, and world-renowned magician, The Amazing Rene, will be performing live magic for families. On Saturday and Sunday morning at the Ukrainian Hall, Claudio Peralta and his wife Blanca will be hosting a night of Latin dancing, called Fiesta Latin, where people can enjoy Latin cuisine, watch some dancing, and learn to dance some popular Latin dances.
Mannisto said, this weekend is a multi-cultural, all-inclusive festival for the young and the young at heart, and SPG is inviting the entire community to come out to celebrate the fact that people can gather once again, while also showing appreciation and thanks to Sudbury's frontline workers.
"Whether it be police, the paramedics, hospital workers, even to grocery store workers and postal workers and transit workers, they were out there day in and day out, they didn't have the luxury of being able to work from home, they had to go out there and work for us, so this is our way of showing some gratitude to all of them," he said.
Salute to Frontline Workers begins Friday evening, March 17, at 5 p.m., and continues throughout the weekend, all day Saturday March 18 and 19.
All events and details about the festival are listed on SPG's website where people are welcome to reserve their seats and tickets for the events they're interested in.
If you have any questions please call 705-662-8518 or e mail [email protected] them today!