Northern Ontario has eased into winter so far but no matter what the Farmer's Almanac warns us about every year, it's impossible to predict the weather and how much snow will land in Greater Sudbury in any given winter.
So once again, area property owners are managing the risk by lining up Snow Squad for the season.
In fact, nearly 90% of last year's customers have already booked Sudbury's largest, most innovative and reliable snow removal service for the season so that they have the service they need, when they need it and at the most competitive price.
The locally owned and operated company launched in 2015 with five tractors and a goal of becoming the #1 snow removal service in the area.
Through continuous investment in the best equipment and technology available, superior training and a demonstrated commitment to service excellence, Snow Squad now has 27 tractors offering faster service times and real-time notifications of when to expect them.
One of the biggest factors in Snow Squad's customer loyalty, sustained growth and domination in the market is its choice of snow removal equipment.
According to General Manager, Mitch Gammon, the company's equipment strategy sets it apart.
"We offer snow blowing rather than plowing," said Gammon. "Snow blowing enables us to clear a lot more snow in a lot less time than plowing can, which means we can clear a lot of driveways really well, really fast with minimal risk of damage to your driveway."
Having the best equipment to do the job makes the difference, according to Gammon, who added that Snow Squad has just upgraded all of its blowers. All 27 of its John Deere tractors are now equipped with Cyclone blowers, which are manufactured with industry-leading Pronovost components, known for their superior snow removal performance.
"These blowers are more efficient and leave your driveway cleaner," he said. "With the Cyclone attached to the rear of the tractor, we back into your driveway and lower the snow blower with its teflon-coated blade onto your driveway. As our operator moves forward towards the street, the blower actually pulls all the snow forward like a vacuum and blows it where we direct it - typically in our customer's front yard. This combination of equipment, operator training and technique allows us to clear the average driveway in less than a minute."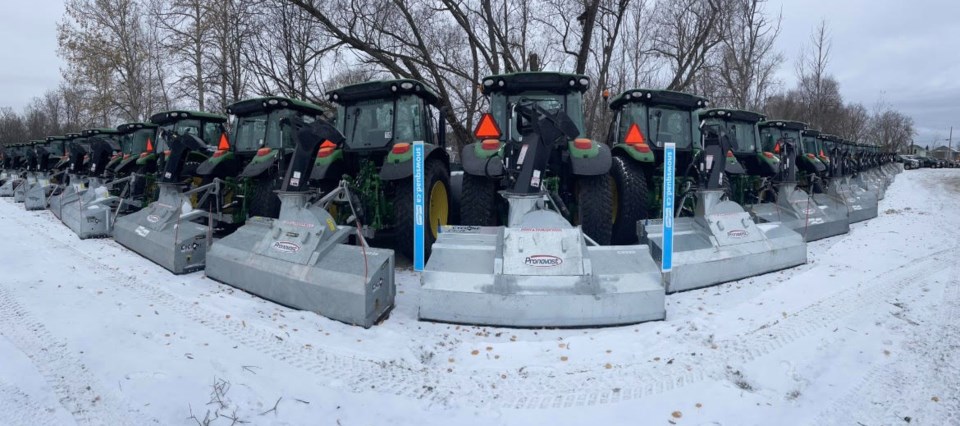 While quality and speed are what Snow Squad's customers count on, Gammon says the company also invests heavily in safety.
"The safety of our employees and the community we serve is our #1 priority," emphasizes Gammon. "Knowing that safety and success go hand in hand, safety is the backbone of our training program, which doesn't merely start and end with orientation. Our operator training program is ongoing throughout the entire season to not only ensure that we continuously improve the service we provide to our customers while ensuring that safety is embedded in our culture."
With less than 100 spots left for the 2022/2023 season, if you're hoping to join the sea of blue in your neighbourhood and get the Snow Squad markers at the end of your driveway, you should act now.
It's as easy as submitting an online quote request at Request a Quote and signing up. Or call 705-682-9090 during regular business hours, Monday to Friday, 7:00 AM. to 5:00 PM.