2023 is a brave new world in cannabis culture. For decades, it was an underground movement, but since its legalization in Canada back in 2018, weed has taken on a whole new meaning for its clientele.
One business that knows all about ganja is Casa Bliss, a cannabis store in Sudbury. The Casa Bliss brand was one of the first handful of cannabis stores to be awarded a license in Ontario when they opened in Timmins. Shortly after, they opened Sudbury's 23rd cannabis store.
Raheel Merchant is the founder and president of Casa Bliss, and since he was a teenager, he's been an advocate for everything cannabis. His deep-rooted appreciation for marijuana led him to open both locations of Casa Bliss.
"I have a strong affinity and passion for this business because I believe in cannabis culture over everything else," Merchant said. "It's very near and dear and true to my heart. It involves people getting together around this plant and sharing their stories. Being involved with each other on a deeper level."
While about 10 to 15 per cent of their clientele are cannabis newbies or first-timers, the bulk of their business is about appealing to cannabis connoisseurs. These people know what they like, but they're always looking for new and interesting ways to enjoy weed.
Casa Bliss excels at dialling into what their customers like by finding alternative products for them. If there's a particular strain of cannabis someone enjoys, Casa Bliss can compare the terpene profile and find a different strain to try that produces a similar effect.
Another way they cater to the connoisseurs is with their rosin press machine. This is a machine that will press the flower and squeeze all the resin out, creating an oil or butter-like consistency. It's a completely different way to experience cannabis.
"Connoisseurs especially appreciate things like that," Merchant said. "They smoke flower obviously, but they want something stronger. When you press something, it keeps those terpenes in there, but makes them taste a lot different. They also determine the smell and the taste your flower has."
One product which surprised Merchant for its popularity has been the THC capsules they sell. He said this product is a big hit with older demographics. The pills are popular with folks who want a smokeless cannabis experience, and are also trying to steer away from the sugar in drinks or edibles.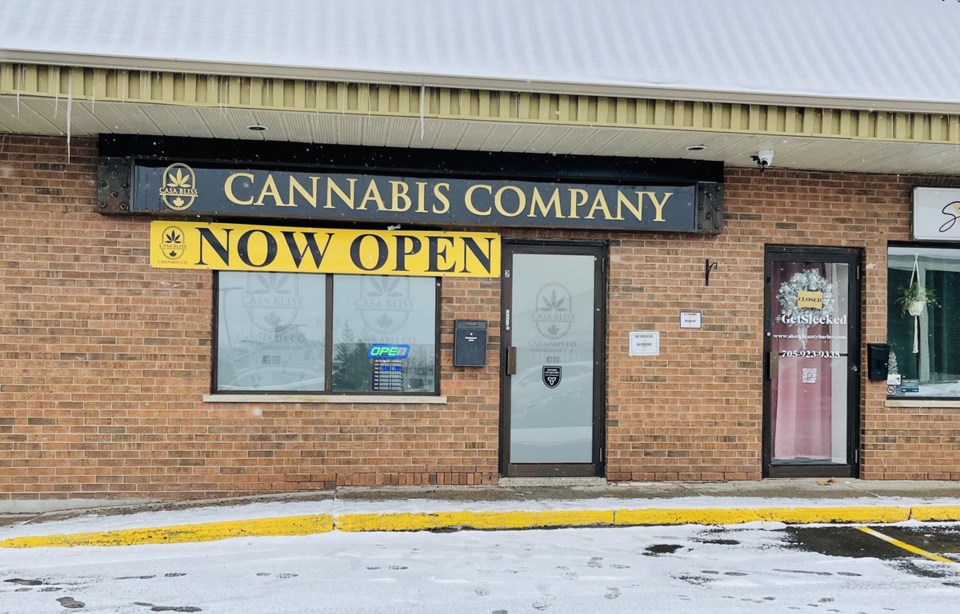 Casa Bliss is a proud partner in the community when it comes to promoting and local artists. They're always looking to showcase any Sudbury-based artists inside their store and welcome any new artists to bring their work through the doors.
Despite the varied reasons for cannabis use, Merchant wants to foster a sense of community among those who visit his store. They have the people who know exactly what to recommend, and the products customers want most.
"We're in the business of spreading happiness with this plant," Merchant said. "We love smoking the best stuff, we love bringing in the best stuff, and we love talking about the best stuff.
"Whether you're a connoisseur or you're somebody who wants to try it for the first time, we have people who truly love the plant to be able to give you an honest opinion."
Check out Casa Bliss in Sudbury at 324 Elm Street #2, or browse the Casa Bliss Sudbury website for the latest products and specials. Follow Casa Bliss on Instagram for their latest product reviews and cannabis releases.