Dr. Patricia Bouchard and Dr. Steve Russell's relationship began at the Northern Ontario School of Medicine, the medical school that they both graduated from.
Dr. Bouchard completed her Family Medicine residency at McMaster University and Dr. Russell completed his Internal Medicine residency at Western University followed by a General Internal Medicine fellowship at Queen's University.
After graduating from medical school, and nearing the end of completing their residency training, the couple had to make a decision that most young professionals are faced with - what city would be best-suited for them to reside and work long-term in their careers?
For doctors Bouchard and Russell, work-life balance was a priority, along with flexibility of their practices.
"When it came to choosing a practice location, I think Patricia and I thought that a community setting was more attractive, even going into residency," said Dr. Russell. "And that became clearer as we went through our training".
The couple would ultimately decide to move to Sault Ste. Marie and practice there—Dr. Russell with the Sault Area Hospital, and Dr. Bouchard with the Superior Family Health Organization.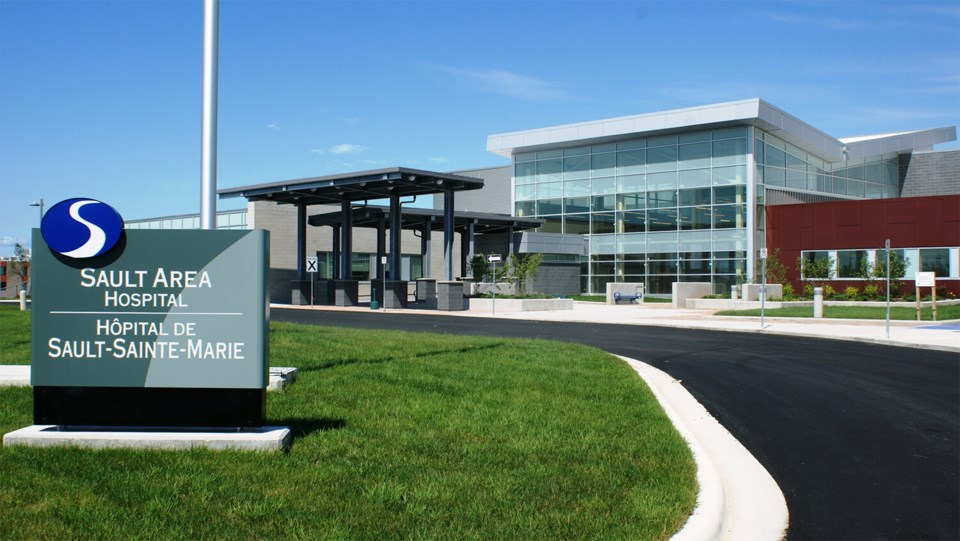 A major reason why these young physicians opted to work in Sault Ste. Marie was, because when compared to larger cities in Ontario, Sault Ste. Marie would not limit their scope of practice.
"We both have a wide scope of practice which is perfect for working in Sault Ste. Marie, where there is a good balance between independence and sub-specialty support."
Aside from professional reasons, Sault Ste. Marie was more enticing for the couple as it offered balance between their personal and work lives. The daily drives back-and-forth to their workplaces are a lot more convenient, allowing for more personal time, according to Dr. Bouchard.
"A huge benefit is that there is no commuting. Everything is pretty close within Sault Ste. Marie. Compared to people who live in the GTA (Greater Toronto Area) who might have a thirty minute-to-one hour commute, you get to spend more time with your family, which is really nice and is something I definitely appreciate about being here."
Like any relocation, the sense of unfamiliarity that came along with the move posed a challenge. This challenge was met by physician recruiters Carrie Stewart and Christine Pagnucco.
"The physician recruiters here are really great. They had us come for a visit when I was working in the Kingston area and Steve was still in his fellowship," said Dr. Bouchard. "They were really good at showing us around and helping us with finding a place to live."
"Since the Physician Recruitment & Retention Program was formed in 2002, we've brought in over 190 new physicians to Sault Ste. Marie," said Christine Pagnucco, Program Manager. "The City has been an invaluable partner particularly assisting with marketing and advertising, and in the past three years, we've seen a marked increase in interest from doctors who see Sault Ste. Marie as a great place to live and work."
Beginning in 2019 and throughout the pandemic, 38 physicians have chosen to practice in Sault Ste. Marie, taking advantage of the work-life balance and cost of living the city has to offer
When they arrived in Sault Ste. Marie, the doctors were excited to experience everything the Sault had to offer. However, not long after the move was when the COVID-19 pandemic hit, which was another challenge that forced the couple to adapt and make the best of it.
"Life was a bit tricky after we moved here because shortly after that COVID happened."
"There were certain things we were looking forward to such as traveling across the border to nearby northern Michigan which was no longer possible. However, we found tons of fun, safe outdoor activities to do locally."
Among these activities were cross country skiing at Hiawatha Highlands, cycling the network of on and off-road trails within 10 minutes of the city, taking trips to the various lakes and beaches surrounding Lake Superior, among other activities both in and around Sault Ste. Marie.
Despite the adversities related to moving somewhere new or an ongoing global pandemic, both Dr. Bouchard and Dr. Russell agreed that they made the right career choices when they relocated to Sault Ste. Marie.
"I really like working with my organization, and the people that I work with are great. We have a very supportive team here." said Dr. Bouchard.
"I've been really happy from a work life standpoint here," Dr. Russell added. "The group of physicians, nurses, and everyone else at the hospital have been extremely welcoming and nice, which has been a real standout to me."
For information about physician recruitment in Sault Ste. Marie, or if you would like to contact someone about a physician job posting, you can visit the Physician Recruitment and Retention Program webpage here.