Help us give local youth the best summer ever!
Please note: the Sudbury.com Cares Best Summer Ever is now sold out. If you would like to support Big Brothers Big Sisters of Greater Sudbury, donations can be made directly on their website. We appreciate your support.
Sudbury.com is stepping up to support Big Brothers Big Sisters with our online fundraiser. But we need your help!
For every donation made from our online pop-up store, local businesses have offered to match the donation. That means your donation will be matched 15 times! Donate below!
All donations will go directly to Big Brothers Big Sisters to support youth programs in our community. You can make a donation until May 19 at 12 p.m.
Please READ THE RULES. Your credit card will be charged at the time of purchase. We recommend you use a credit card, not a debit card.
This wouldn't be possible without the generous local businesses and organizations that work hard to make Sudbury a better place.

Thanks to the following businesses who have joined us in matching each donation: Cooperative Funeral Home, Cintas Sudbury, Equipment World Sudbury, Greater Sudbury Plumbing, House of Broadloom, Lougheed Foundation, Mosquito Hero, Ranger's Cremation and Burial Services, Rastall Nut & Bolt Co. Ltd., Sudbury Credit Union, Sudbury E-Bikes, The Kouzzina, The Shop Industrial Inc and Urban Windows and Doors.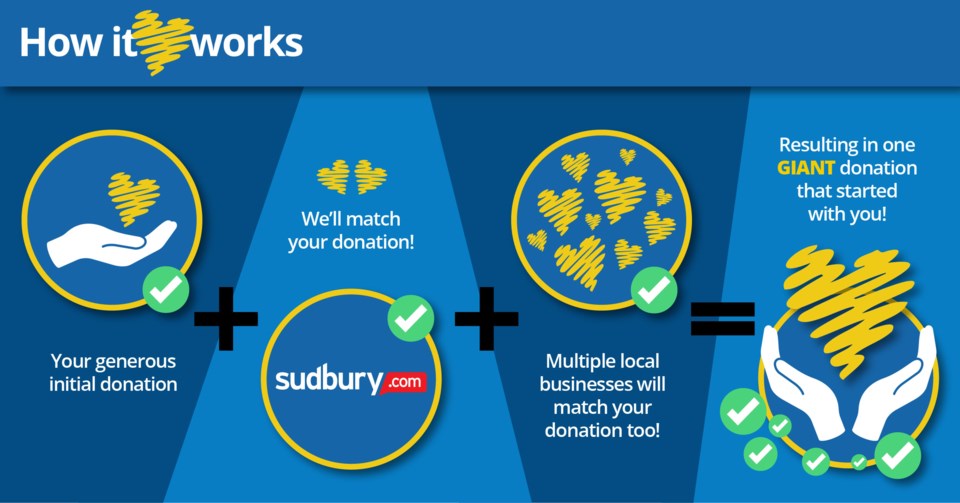 Rules
Sudbury.com Best Summer Ever Matching Initiative Terms and Conditions
Please Read Carefully:
All donations will be charged to your credit card at the time of donation.
We strongly recommend NOT using a debit card.
Only donations of $25 can be accepted and will go towards the purchase of a gift bag and/or gift card(s), but you can make multiple, separate $25 donations.
All credit card charges will appear as VILLAGE MEDIA on your statement.
A Sudbury.com account is required for participation in this fundraiser. You can register for an account at: https://www.sudbury.com/account/register
You must be signed in to your Sudbury.com account to participate.
At our sole discretion and for any reason, Sudbury.com retains the right to revoke an account and cancel any transactions placed by that account. In the event an account is suspended or transactions are canceled, the account holder will be notified by email. If you have problems registering or logging in, please reach out to our customer service department at

[email protected]

.
All registration and information shall remain confidential within Village Media Inc. We will not share your information.
Donations can be made starting at 12:00 pm Toronto time May 16, 2023 and will be accepted until May 19, 2023 at 12:00 pm Toronto time.
All transactions (donations) are considered to be final. You will receive a confirmation email after you have made an online donation.
Tax receipts WILL NOT be issued.
For any questions related to online donations, please email

[email protected]

.
© Village Media, Inc.2023 All Rights Reserved.
Closed on Friday, May 19, 2023 11:59:00 AM
---